I always wanted to get free organic traffic from Pinterest, that's why I got a Pin Funnels course. But have you been wondering the same thing as I did at first…

Is Pinterest good for marketing? Can it really get you a ton of traffic to your blog?

Well, I didn't expect much even though I heard many stories of people who were getting really amazing results. Thousands of visitors to their blog – per day!?! Hmmm…

You are probably skeptical too, that's why you should read this whole article about the Pin Funnels review. It just might change your life.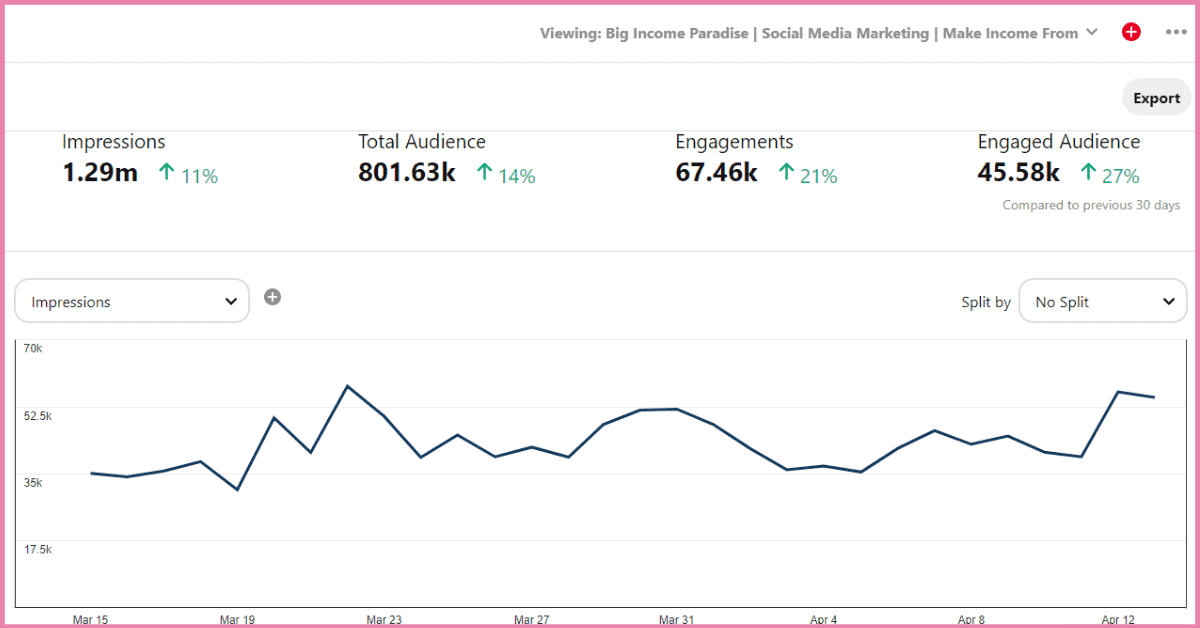 ---
---
Is Pinterest Good For Marketing?
Yes, Pinterest is absolutely good for marketing. You learn in Pin Funnels how to use it and get massive amounts of traffic to your blog or website, it can level up your business.

That's because it doesn't take long to rank your pin images on Pinterest. Here's what you need to know – Pinterest is a search engine like Google. However, it doesn't take months and months to get your content in front of more people.

It can literally happen overnight! I saw many people get results in just 24 hours. No, I'm not one of them yet, however, it did take me only 3 days! Good, right? I'll share more about this later.
What Is Pin Funnels Course?
You guessed it – it's a Pinterest course. Well, it's more than that – it's actually one of the top online courses for bloggers and entrepreneurs.

It will teach you all the best Pinterest marketing strategies that will get you more traffic to your blog, website, or offer. This step-by-step video course is easy to understand and really powerful.

You will also learn how to create successful funnels that will get you more subscribers and customers.
Who Created The Pin Funnels Course?
Her name is Katherine Sullivan from Marketing Solved. She's an amazing blogger and entrepreneur who helped over 10,000 customers and business owners.

Kat shared the stage with John Assaraf, Jack Canfield, Kevin Harrington, Russel Brunson, and Leeza Gibbson. She was also featured in Inc.com and Entrepreneur.

Not only is she a boss babe, but she's also a Pinterest queen! Kat started with Pinterest marketing many years ago and now it's her number #1 traffic source.

Here are some of her Pinterest results when she started:
Her website traffic skyrocketed to over 10,000 visitors in 30 days
She grew her email list by 3700 in the first month
10x her income from website products
Having multiple VIRAL pins!
What Will You Get Inside Pin Funnels Course:
This Pinterest marketing course is one of the best and most detailed courses I have got. It doesn't teach you just about Pinterest marketing. Check out this list of what you'll get inside:
Pin Funnels 2.0 (Updated for 2020)
Pintroduction (the essential parts you have to learn first)
Pinterest account optimization
Creating lead magnets
How to create high converting landing pages
Perfect pins formula (all about viral pins)
Promotion strategy
Pinterest advertising
How to nurture and sell to your email list
How to automate Pinterest with Tailwind
Pinterest + Youtube hack
Bonuses (high converting copywriting email swipe files, email sales sequence, sales on autopilot e-course bundle, 90+ Pinterest ad examples & MORE!)
That's not all! You get a lot more under each section you see above. Yes, you get a ton of value that not a lot of other courses provide. Plus, you can get inside the private Facebook group where you can ask any questions and you will get help! How cool is that!? 🙂

The best part about Pin Funnels is – it's always updated and you don't need to invest more money into it. You get it once, and all the updates and upgrades are yours for free.

That was very important to me because of what happened in the past. I invested in some courses that were outdated and if you wanted to get the new updated information, you had to invest more money.

And you probably know by now that Pinterest is always updating their algorithm so getting all the updates for free is really good news 😉

There is more to Pin Funnels, that's why I created a video where I show you the back-office of the course. You can watch it below:
Is It Worth Getting This Course?
YES, it absolutely is worth it! If you take action you can get lots of traffic, leads, and sales. Plus all the future updates are free, which means you'll never have to invest in another Pinterest course.

But you might think: "Well, of course, you're recommending this product because you're an affiliate."

True, I am an affiliate and I openly disclose that at the beginning of this blog post. Affiliate marketing is one of the ways I get my income. It helps me keep this blog up and running and it also helps me feed my dog, Ciara 🙂

However, I would never recommend any products, tools, or services that I don't believe in. My intention is to help you, not hurt you.

That's why I'm doing a review of Pin Funnels. It's obvious I invested in it – you can see the video above where I show you the back-office.

This review exists because I genuinely love Pin Funnels, I'm getting results and I'm confident to say it will give you results too, but only if you take action.

And I'm not the only one who loves this course. Check out other people's testimonials below:
Is There a Negative Side To Pin Funnels:
I want to be completely honest with you that's why I want to share my thoughts on this Pinterest course. Not everything is sunshine and rainbows, right?

Before I started learning from this course, I thought I'll finish it in a day or two. However, it took me well over a week. There is a lot to learn and it takes time.

The videos are easy to understand, so that's a plus. However, if you're watching too many of them at once – you get information overload.

I understand if you want to learn an amazing strategy that will get you a ton of traffic and results, it's not possible to share all of it in a couple of short videos. I just wanted to let you know it's going to take you some time to get through the whole course.

The best thing you can do is take notes and go through it slowly. Rushing won't do you much good – you could actually miss some really important parts of Pinterest marketing.
Some of my results:
Before I got Pin Funnels, I learned from Katherine's free mini-course. I went from having no visitors on my blog, to having 100+ in the first month of implementing the strategies.

That's when I knew I need to get Pin Funnels. When I got it, learned the strategies, and implemented them, my Pinterest account and traffic started growing immediately.

I was getting 300-400 people on my blog daily. I couldn't believe my eyes. What happened? Well, one of my pins took off and it was ranking on top of Pinterest. It didn't happen overnight, but as I said at the beginning of this blog post – it took only 3 days.

This pin below is now over 6 months old and it's still driving me traffic:
I actually created a bunch of different pins that drive traffic to the same blog post. So imagine how much traffic you can get if you create multiple pins and each gets people to your blog post. That's the magic of Pinterest and you will learn all the secrets inside the course.

Also, I have been growing my email list with Pinterest. The results are absolutely incredible and have to share them with you:
In the first month, I got around 30 new subscribers
The second month the number of new subscribers jumped to 80+
Then the third month it skyrocketed – over 300+ new subscribers
Now I am consistently getting between 400-500 new subscribers
Will Pin Funnels Course Work for You?
I can't guarantee anything, because it all depends on you. If you won't take any action, then, of course, it won't work. However, if you do learn and implement the strategies, then I'm sure you'll see results.

Speaking from my own experience, Pin Funnels with work for you if:
You commit 100% to the course and start implementing the Pinterest marketing strategies. Putting a small amount of effort will result in a small amount of traffic.
Who Is PinFunnels For?
It's for entrepreneurs, marketers, bloggers, affiliate marketers, network marketers, coaches, retailers, e-commerce, or local brick and mortar store.

If you have a product to sell, then Pin Funnels is for you. It will help you get a ton of traffic, leads, and customers.
Who Is PinFunnels NOT For?
It is NOT for people who are looking for easy get rich quick schemes. Pin Funnels is not for people who aren't going to put in the work and effort. And it's definitely not for those who think results should happen overnight.
Do You Need a Blog?
No, you can choose to send your traffic to a home page, a product page even Youtube. However, Katherine and I both recommend a blog. It's because you can give a ton of value to your audience and that's how trust is built. And you know that sales happen when people trust you.

Also, inside Pin Funnels you will learn how to maximize your Pinterest traffic with a blog.
CONCLUSION:
When I saw what's possible on Pinterest, I completely fell in love with it. It is now my number #1 traffic source, thanks to the Pin Funnels course! It absolutely changed my life and I'm sure it can change yours too.

Start learning and implementing the strategies and you will get results for sure. So if you're ready to grow your Pinterest, traffic, and business, consider investing in Pin Funnels now.