Use These Facebook Features That Will Help You Build Your Online Business FAST
Are you using all of the Facebook features and tools? There is a high possibility that you don't or you don't know how to use them the right way. That's ok because you are going to learn right here.

The reason you need to learn how to use Facebook features is that every Social Media wants you to test their new "inventions". When something new comes out, test it right away. You will benefit from it in many ways. One of those ways is FREE traffic.

Before we jump into these 7 overlooked Facebook features, I would like to invite you to our FREE Coaching Group. It's for all solopreneurs, marketers, and bloggers who are eager to learn about Social Media Marketing, Blogging, Email Marketing and so much more. CLICK HERE and join our awesome community.
---
1.) Facebook Features – Stories on Personal Profile, in Group and on Your Page:
Are you using stories to brand yourself and promote your online business? If not, you are definitely missing out. Stories became popular on Instagram and now we have them on Facebook too. And whenever a Social Media platform comes out with a new feature or tool, we should use it.

It will give you more exposure, and the best part is that there is no limit on how many times you post per day. You can also mix it up with text, photos, and videos to make it more interesting for your audience.

There are more and more people who use stories but only on their personal profiles. Did you know you can use stories on your page and in your group too?

Yes, you can use them everywhere which means even more EXPOSURE! How awesome is that? 🙂 Facebook changed their algorithm (they do it often) and they limit our organic reach. But with these amazing new Facebook features, we can still reach out to more of our audience.
2.) Encourage Your Audience to Private Message You:
You can include a button in your post that your audience can click and it sends them directly to your messenger. But you have that option only on your Facebook Fan Page.

Start using this feature because you can get more messages and that means more chances to close a deal, make a sale or build a great relationship that will lead to a sale down the road.
If you don't have one yet, I really recommend you make it right after you read this blog post. Many marketers and solopreneurs think it's not necessary to have a Facebook Fan Page, but that's not true.

If you look at all of the leaders you follow – do they have a Facebook page? I never met a leader that didn't have it.

You will look more professional and you can have bigger exposure. Besides all the Facebook features you can use on your personal profile, you will get even more features and tools on your page. And you can use Facebook Ads too.
3.) Facebook Features for Royalty Free Music in Your Video Background:
Did you ever make a video where you were playing a song in the background (maybe Beyonce 😉 )? Was that video muted out? If not, you were lucky.

I was in Egypt on my vacation and I recorded a video of a guy who had a show with snakes (cobras). I don't need to tell you that he was crazy 😉 but my point here is – there was music in the background. So when I uploaded the video on Facebook I received a pop-up message that I can't upload a video except if I allow Facebook to mute it.

The video is still on my personal profile but it has no sound. You can check it out HERE. Maybe you're wondering if Facebook even allows music in your videos, and actually, Facebook has your back 😉
This feature is only on your Facebook page, and you can find it under the button Publishing Tools. When you click on that, you will see on the left side where it says Tools and under that Sound Collection.
At this time while I'm making this blog post, Facebook offers 3,536 tracks that you can use. So when you make your next video and you want to give it a little oomph, just choose from the Facebook Sound Collection.
4.) Facebook Live Videos – Interactive Polls:
Now you can interact with your audience and fans even more. You can include polls in your live videos. Who doesn't enjoy polls, right? 🙂 They are fun and easy to use.
The polls will help you to get to know your audience and what they want and need. You can use this Facebook feature in many different beneficial ways.

If you want to learn how to SKYROCKET your engagement with Polls in videos or posts, CLICK HERE and get the FREE PDF. It will also help you get to know your audience and make better content for them.
If you want to learn how to do great Facebook Live videos, then check out my blog post with tips that will get you more views and exposure. Click here and check it out.
5.) You Can Split Test Your Ads:
This is another one of the Facebook features that will help you save money and also make more money. You should always do a split test to see which photo, video, text, placement, or audience is working best for your business.

When you get your results and see what works best, then you just stop paying for the ad that is not doing good. You can see that option in your ads manager. This is how it looks like:
6.) Create Offers on Your Page:
That's another advantage of having a Facebook page. Promote your products or offers when you're having a discount. And you don't even need just an online store. It works for offline stores too (see the photo on the right).
Facebook really gives us a lot of features that help our business and income. We just need to learn and start using them. It's that simple.

When you decide which option works best for your business, then you just have to finish your offer. Add a catchy title, choose a discount (if you have one), include more details about your offer, add a photo, expiration date, and a link. And voilà you are done 🙂
If you're using your personal Facebook profile for promoting your business, then maybe you're missing out if you don't know about the hidden messages.

Yes, of course, you will find a lot of spam in there, but you will also get questions from your followers. And if you don't respond to them, you are missing out on building a great relationship with a new fan.

So where can you find the hidden messages? I'll show you where to find them on your computer or on your phone.
ON COMPUTER:
Click on messenger and when the drop-down menu opens, you will see an option MESSAGE REQUESTS (beside recent).
Click Message Requests and you will see who wants to talk with you. There will be another option below (See filtered messages). Click that, because sometimes the messages go there too.

So as you can see, there are another two different places where you get messages. Never miss out on an opportunity to build a relationship with someone who's reaching out to you for help.
ON PHONE:
I have an Android but I think the icons should be the same on all phones (they just might be in different places). Follow the steps on the photo below: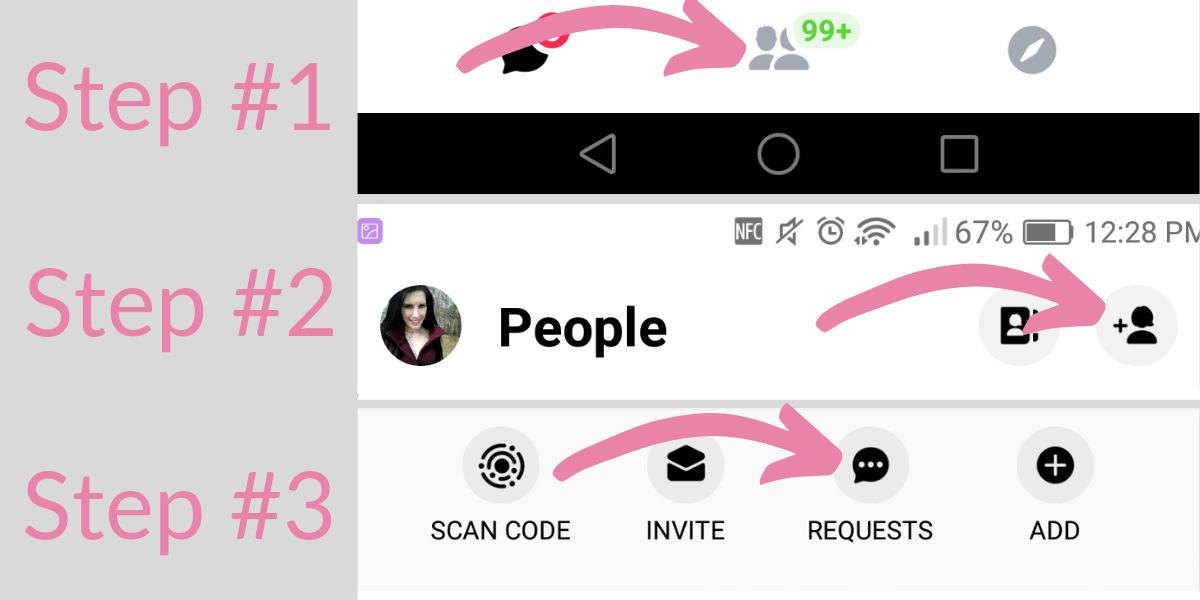 Step #1: On Android, that icon is at the bottom of the Messenger
Next step #2: The icon is on top of the Messenger (right corner)
Last step #3: Icon REQUESTS is at the top
---
CONCLUSION:
If you're using Facebook for your business, then you have to start using these overlooked Facebook features. You might be missing out if you ignore them.

The most important steps from this blog post are 1,5 and 7. Learn more by reading my blog post again, take notes and then implement 🙂 And if you have any questions, leave them in the comments below and I'll help you.
---
Did you get some value from this blog post on how to increase blog traffic for free? I hope you did because every week I put my whole heart into giving you the most amazing tips and strategies that help you succeed in your business.

If You Love Sharing Valuable Info Then Click Below And Share On Your Favorite Social Media 😊⬇