Many Bloggers have the same question: "How to get people to read my blog?" – and here is your answer
Every blogger has the same two questions when they start blogging. First is "Where & how can I get massive traffic?" and "How to get people to read my blog?". If you are reading this, you are probably searching for the answer on a second question 😉

You are in the right place. We are going to cover everything you need to include in your blog post to make it fun to read.

But first, I would like to invite you to our FREE Coaching Group for all bloggers, solopreneurs, and marketers who want to learn how to get traffic and increase sales with Social Media Marketing, Blogging, Email Marketing and more. CLICK HERE and let's connect 🙂
---
This post includes affiliate links to products I really love and recommend, which means I may receive a small commission, at no extra cost to you. I will use the earnings to feed my little dog Ciara 🙂
---
1.) Create QUALITY content for your readers:
Many bloggers think that creating many blog posts per week is what they need to do. But that is not true. What your readers want is QUALITY. And if you create 10 blog posts per week, do you think they will be great?

Maybe if you are really, really, REALLY good at blogging and if you have lots of time on your hands. But let's face it, we don't have that much time, and no one wants to be a slave to their business.
So instead of creating multiple blog posts per week, focus on creating ONE or TWO QUALITY blog posts that are full of VALUE.
Your readers will appreciate it more if they will learn a ton of new things. Just think about it, do you want to read blog posts from the same creator daily – even if it's just basic stuff you already know? Probably not 🙂
2.) Use high-quality photos:
Have you ever been on a blog post with bad quality or no photos at all? And did you like it? My guess is you didn't, and your readers aren't any different. Great quality photos make it more interesting to read and make you look more like a professional (even if you're not).
Photos bring color to the blog post and that's why it makes it so interesting. No one wants to look at the black and white color all the time (except if that's what your blog & business is all about).

Always try to include photos with the same or similar colors to your brand. Your readers will remember you more, and if they will like your branding and value, they will return back.
3.) Don't complicate and you will get people to read your blog:
If you think you need to use really "fancy" words, you're wrong. Try to make it simple, so that people can read it. If you start complicating and using words that most people don't even know they exist, you will start losing your audience.

You have to know there will be all sorts of people on your blog. Yes, it's true you need to laser target who you will reach but not even these people will be the same.

So complicating won't help you at all. Write your blog posts in such a simple way, they will understand what you're talking about. It's ok to use a "fancy" word here and there, but don't go overboard.
4.) Write about things your audience is interested in:
That's why it's so important to know your audience. You need to know what they are struggling with, and how you can help solve at least some of their problems. That's why I put together the TOP MUST ASK Questions you need to answer to get to know your audience. You can get the questions by CLICKING HERE or on the button below.
If you will write about how to make a sandwich 🙂 but they are interested in how to get people to read your blog, you'll lose them. It makes sense, right? Next time when you won't know what to write about, ask your audience.

Your next step will be to create an amazing blog post that will teach them something new and useful. Don't forget to overdeliver. That means you will give them more they expect.

Include freebies where they will learn even more – and they'll love you forever 🙂 It's not that complicated to get readers and fans.
5.) Learn to increase blog traffic with SEO:
Increasing blog traffic with SEO will get more eyeballs on your posts. That means more readers and more potential customers. Traffic is one of the most important keys to your success.

There are many ways you can skyrocket your traffic and we are going to talk about some of them in this blog post. But you need to learn more about SEO.
7 Day SEO Boost Challenge:
I have to recommend this amazing Freebie! It's not mine, but it's perfect for bloggers who want to get more traffic from Google while learning more about SEO. Get your 7 Day SEO Boost Challenge here and take action right away. You have nothing to lose because it's FREE 🙂
Build Blog Freedom Fast Track Course:
I suggest you learn from the best. I found a great 10-week program that will teach and show you exactly how to use SEO to get more traffic and exactly how to use affiliate marketing to earn commissions.

Build Blog Freedom Fast Track course will also walk you through how to define your niche and how to change your mindset to think about how your blog can help others. As you know, mindset is 80% of your success. You will also learn how to optimize your existing posts.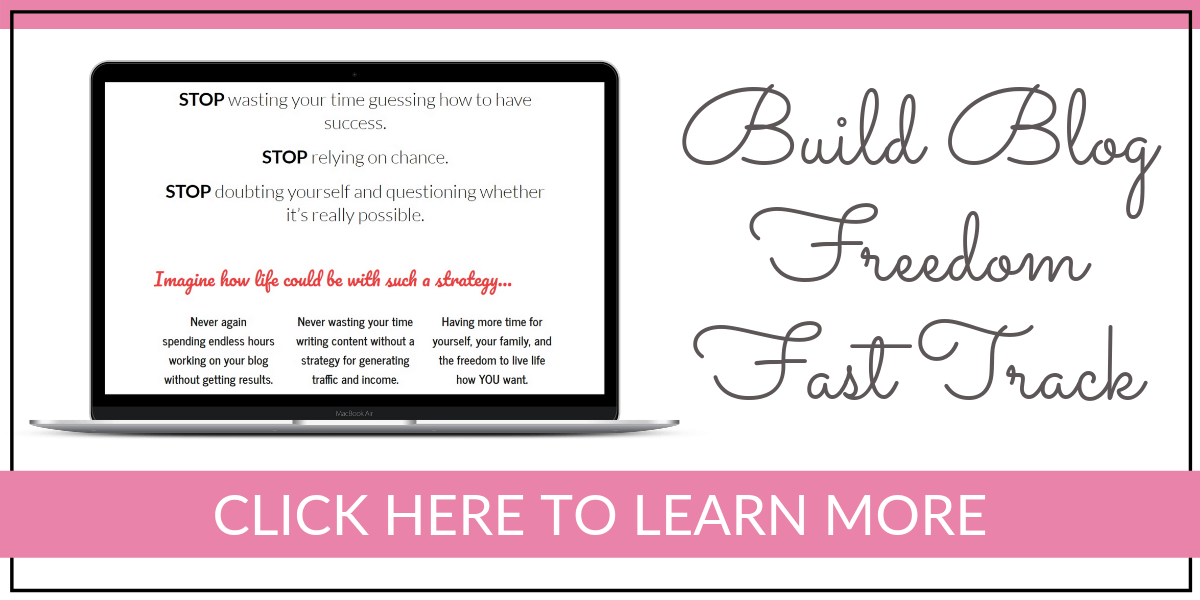 You will have access to a full SEO course, SEO Freedom and full Affiliate Marketing Course & Affiliate Marketing Freedom!
So get the Build Blog Freedom Fast Track course HERE and start learning and implementing the strategies today. If you have been putting a lot of effort into your blog and you are still not seeing results, then you need to get this. It will change your life!
6.) Use Pinterest for getting massive traffic:
It's true that SEO is important when you start blogging, but it takes a long time to see results from it. I have never heard of anyone who said: "I'm willing to wait for the results." – usually, we all want results like YESTERDAY! 😉

With the right Pinterest marketing strategy, you can skyrocket your traffic and get more people to read your blog. Of course, you have to target the right audience that is interested in your blog topics.

If you want to learn more about Pinterest Marketing, then I suggest you read my blog posts where I describe how I went from 10 monthly views to 41K views and how I did it with a Pinterest Business account:
I will give you one more big reason to learn a great Pinterest Marketing strategy – most of my traffic is from Pinterest – a whopping 77.74% (all FREE traffic!)
7.) Use ads to spread the word about your blog:
Most bloggers and solopreneurs are scared to use ads because they can lose money. Are you feeling the same? Don't worry we all get scared. What you need to do is this:
1.) Learn how to use ads (Facebook ads, Instagram ads, Pinterest ads…)
2.) Set a monthly budget (how much you can invest in ads)
3.) Split test your ads (A/B testing) to see which one works best
4.) Use the one that works best, but still analyze your results
5.) Don't go over your budget!
Ads can help you reach more people without spending the whole day in front of your laptop. They will also help you look more professional, so don't be afraid to start using them.
8.) Being funny is how you get people to read your blog:
Do you think being funny is a big NO-NO when making a blog post? I will tell you from my own experience that being funny will actually help you a lot!

Many people send me a message saying they loved my blog post because it made them laugh but also they learned a lot. They enjoyed reading it because it was fun.

I'm not saying you should be a comedian in every blog post, but if you remember something funny and it fits the topic – DO IT! 😉
9.) Include videos in your blog posts:
You have different people on your blog so to satisfy almost everyone a video is a way to go 😉 You can share more value through a video and it makes your blog posts look more interesting.

And there is another great reason – your audience will see your face and hear your voice! That builds trust faster and that is what you need to achieve if you want to gain more readers, followers, fans and make more sales in your online business.

If you don't want to be in front of the camera, you can still make a video. Make a PowerPoint presentation and talk about a specific topic. Your audience won't see your face, but they will still hear your voice.
10.) Learn and improve your knowledge:
What does that have to do with people reading your blog? Actually A LOT! If you don't have enough knowledge about the topics you write about, then you are most likely writing about the same things as most bloggers.

To be different and to stand out, you NEED to provide a lot of value and knowledge. I say this all the time:
The more knowledge you have – the more valuable you are to your audience.
If you have been following great leaders, you know they are always over-delivering value. But they don't give it all away, and you shouldn't either. People will still read your blog even if you don't explain everything.
11.) Create a community of raving fans that will read your blog:
How can you create a community of loyal followers? It's not that hard, but I'm not going to say it's easy. It takes some time and work. You need to be there for them, help them out and answer their questions. Also, you have to create content that helps solve some of their problems.

Here's a really great tip I got from a really successful lady boss Kat Sullivan from Marketing Solve:
Before you move on and try to gain more followers, make sure you take care of your existing followers!
Think about it for a second. What do most people do when they love you? Do they recommend your blog posts to others? 😉 They sure do, and that's how you will get even more new people that will read your blog.
12.) Start using Quora to help people and promote your blog:
Maybe you're wondering what is Quora? Here is a quick explanation from Wikipedia: Quora (/ˈkwɔːrə/) is an American question-and-answer website where questions are asked, answered, and edited by Internet users in the form of opinions.

People go to Quora to ask questions because they need a solution to their problem. And you can be their hero 😉 Answer their question with an in-depth solution and send them back to one of your specific blog posts that cover the same topic they are struggling with.

And guess what? Many people check the answers in Quora, so the better your answer will be, the more eyeballs you will get on your blog. More traffic for you!
13.) Build your Email list fast:
Why should you include Email Marketing to your blog? It's because many people will visit your blog once, and never again because they will forget you. Unfortunately, that's always the case. That's why you need to get them on your email list so that you can remind them who you are and what your blog is about.

If you start sharing some extra tips and tricks to your email list, you will also gain loyal followers. As I said before – OVER-DELIVER!

Don't worry if you're new to email marketing. I made a Beginner's Guide to Successful Email Marketing that you can check here. Learn how to use it to grow your online business, build an empire and skyrocket your income.
---
---
Did you get some value from this blog post on how to get people to read your blog? I hope you did because every week I put my whole heart into giving you the most amazing tips and strategies that help you succeed in your business.

If You Love Sharing Valuable Info Then Click Below And Share On Your Favorite Social Media 😊⬇