For many years I didn't pay any attention to building a personal branding strategy. And yes, I struggled all that time. One day I came across a post about personal branding and why we need to work on it.

So I decided to test it out. After some time, it really worked for me. And I know it's going to work for you too. That's why we are going to cover 30 personal branding strategy ideas that you can start using today.

But before we start, I would like to invite you to our FREE Marketing Coaching Group, where you will learn Social Media Marketing, Pinterest Marketing, Email Marketing, Personal Branding, and much, much more.
This post includes affiliate links to products I love and recommend, meaning I may receive a small commission at no extra cost to you. I will use the earnings to maintain my blog and business so that I can deliver more value and knowledge to you.
Why is personal branding important?
Personal branding is important because it represents you. Without a good personal brand, no one will listen to or follow you because you will fail to build the 3 most important things: trust, credibility, and connections.

Being authentic and sharing your passion and knowledge will help you attract the right audience to you. That is the power of personal branding. It makes it easier to grow your business.
1.) Be your authentic self:
For building a great personal branding strategy, it's important to be who you really are. The biggest problem most female entrepreneurs have is that they pretend to be someone they are not. And with time, it's hard to keep up with that perfect image.
2.) Provide value to your audience:
For the most part, you should be providing value. When you help your audience achieve better results, you also build trust. But not only that, they will start seeing you as a go-to person.

Next time they are stuck, they will ask you for help. The more you help them, the more they trust you. And you probably know that when people trust you, they buy from you. It's all connected, so make sure you provide lots of value.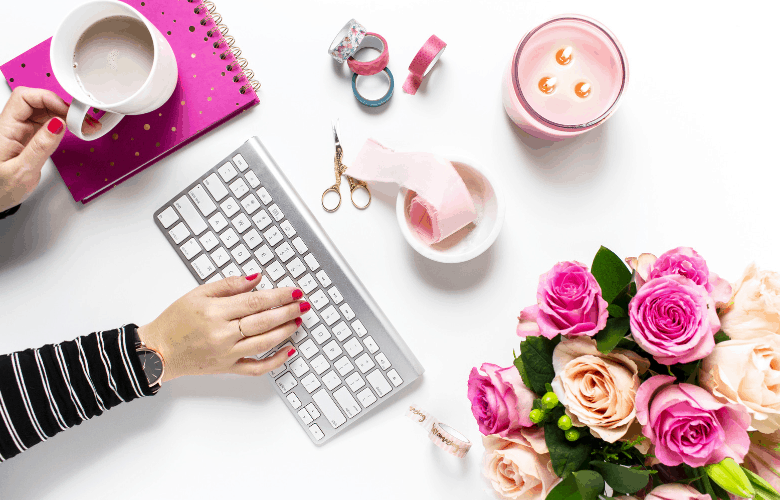 3.) Use your branded colors:
Wouldn't it be nice if your audience would see specific colors and think of you? You can absolutely achieve that! If you keep using the same colors over and over again, people will remember them.

For example, let's say you are using pink. You need to use the exact same pink every time. That's why you should write down color hex code – it starts with # and is followed by numbers and letters.
Choose up to 4 colors that complement each other.
4.) Always use the same fonts:
Not only should you use branded colors but also fonts. Maybe you're thinking, "Oh, that's such a small detail, no one will notice." – but know that sometimes the smallest details make a big difference.

So choose your fonts, 2 that go together – and if you need to – another two that go together. No more than that! And also, make sure the fonts are easy to read.
5.) A logo should be a part of your personal branding strategy:
A logo is another part of your brand that you should have. But here is where most female entrepreneurs fail. They think it's not a necessity, and they don't invest in it.

But how are you going to represent your brand in photos? You are probably not always taking selfies, right? So be different than most entrepreneurs and create a logo. You can create it for free or pay someone on fiverr.com to make it for you (it's usually $5+).

If you want to create it on your own but don't know how then watch my video below:
6.) Be an expert in your field:
I'm not saying you should fake it and pretend to be an expert if you are not. But you should invest in your knowledge every single day. That will make you an expert faster than anything else.

Why should you be an expert? It's simple – look at all the leaders in any business. They have a ton of knowledge about their niche, and with it, they help others.

Without a doubt, you should learn daily and become an expert or a go-to person. It will help you grow your business and income.
7.) Include video marketing:
Video marketing is really powerful because people can see you and hear your voice. That builds trust faster. It's the strongest strategy that you can do unless you are doing offline marketing (face-to-face).
It can be scary to expose yourself and be vulnerable, but if you want to have an amazing life, then you need to do things that are not in your comfort zone. And we are going to talk about that too 😉
8.) Consistency is the most important part of personal branding strategy:
If you read my blog posts, you know I always mention consistency because it really is key to success. You should be consistent with colors, fonts, writing style, posting, and everything else.

In the past 6 years and a half of being in online marketing, I noticed that people could be consistent with everything but posting. That is where most fail because they don't know what to post.

Don't worry; you won't be one of them. I created 120 Killer Social Media Content Ideas Your Audience Will Love. Check it out and bookmark it so that you can quickly come back to it for more ideas.

You can also get my 7+ Years of Social Media Content Ideas. Not only will it help you to stay consistent, but it will also reduce your stress because you will get 3 content calendars!

There's even more inside – here's what you'll get:
3x Social Media Content Calendars
1600+ Extra Content Ideas
796 Graphic Canva Templates
How to Create High Converting Content (video training)
90-Day Social Media Challenge
Content Marketing & Storytelling Strategies
Content Templates, headlines, and hashtags
35 Ideas Where To Promote Your Business
List Of Holidays
And Bonuses
It's really the ultimate solution that will help you save time and attract more people to your business.
---
You might also love to read: 35 Killer Social Media Branding Tips And Strategies
---
9.) Important personal branding strategy – No spamming:
Have you ever received a friend request on Facebook, and then they sent you a long text, probably copied & pasted the script, and then started selling you some products? I think we all experienced that.

Without a doubt, they don't make any money. But what's even worse is that they get a bad reputation. It's not easy to build a good, trustworthy reputation, but it's even harder to get rid of a bad one.
So instead of spamming, start communicating with people and get to know them better. See what they struggle with and help them out.
10.) Focus on long-term brand success:
Too many female entrepreneurs focus on short-term goals. Instead of focusing on the right things like building relationships and trust, they only think about how much money they can make fast.

That is one of the reasons why so many never succeed. But because you know it's wrong to focus just on your money goals, you will be smarter and focus on providing value 😉

Gary Vee said in his blog post here that he prioritizes his brand over short-term sales because it will bring him more respect, admiration, and wealth in the long term.
11.) Focus on one Social Media platform:
Do you prefer one social media platform over the other? Maybe you love Facebook more than Instagram. Well, choose the one you prefer the most and start growing it.
If you want to, you can choose 2 platforms, but just know it will be more work for you. You should also include email marketing. The reason for that is you can lose an account on any social media really fast.

For example, you do one wrong step and bye-bye Facebook page. But you can't lose your email list – so learn how to grow your email list for free with these 11 easy ways.

If social media is the only connection you have with your audience, you can instantly lose your whole business. So protect yourself and start building an email list with MailerLite.
12.) Use different content formats:
Even if you really target your audience, they will still be different. Some people love to read, but others don't. So some will love videos more than posts, and others will love longer blog posts over videos.

Providing only content in a blog post format won't help you with those people who love watching videos. This way, you will start losing followers.

Here are some different content formats you can start using today:
social media posts,
e-books,
blog posts,
videos (live & pre-recorded),
checklists
workbooks
infographics
case studies
You might also love to check out the Top 7 Types Of Social Media Content You Need In Business.
13.) Re-purpose your content:
If you made an incredibly valuable blog post, why wouldn't you share it multiple times or even in multiple formats?
You can create a video with the same tips, or you share half of the tips and tell your audience if they want to learn more, they can check the whole blog post.

Instead of having one blog post, you can have two pieces of content in different formats. You can do that with your older social media posts, videos, or anything else.

If you're focusing on building your email list, then check out your content and convert it into a freebie. There are infinite possibilities.
14.) Find and use your voice:
You will find your voice with time and by being yourself. But you will struggle if you will pretend to be someone you're not. Don't rush things, and just keep on showing your true face.

Don't think you won't be able to find your voice because you're not special. Each and every one of us is special and has something to offer to the world. Give it some time, focus on providing value, and you will find your style.
15.) Using the right photos should be a part of your personal branding strategy:
How do a greasy hamburger and weight loss go together? They don't! You can't eat unhealthily and expect to lose weight. So why do you think it's ok to share photos of cake and pizza while promoting weight loss?

Your photos need to be consistent with your brand. For example, if you are promoting weight-loss products, then share photos of healthy food and people who exercise. If you are selling online courses, share photos of laptops and phones.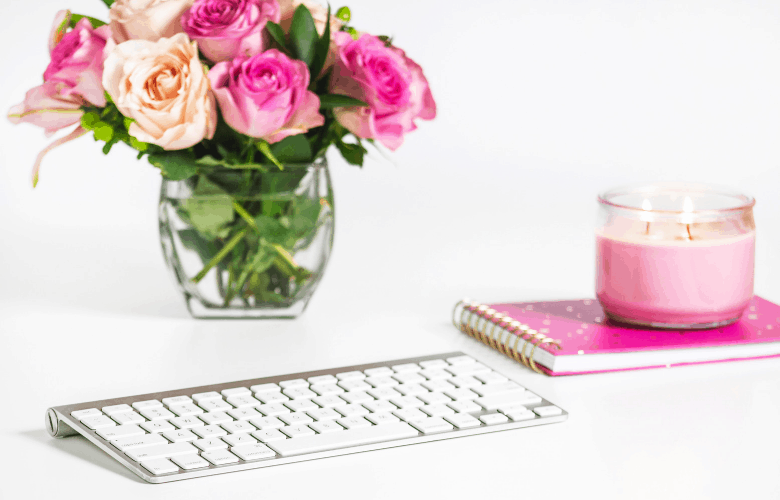 Also, it's good to invest in professional stock photos. Almost all the photos that you see in this blog post are from Ivory Mix. You can get 550+ Free beautiful photos or decide to invest in a membership. Check it out HERE and take your personal brand to the next level.

You can also use Canva (the PRO version has way more professional photos to choose from).
16.) Show your failures and weaknesses:
This part can connect back with tip #1 – be your authentic self. No one will believe that you are perfect. Trying to include perfection in a personal branding strategy will help you fail every single time.

Talk about your failures and weaknesses and share how you overcome or improve them. As a result of showing who you really are, you will get loyal followers who will admire and appreciate you. Brand yourself the right way, and you will succeed.
17.) Use attraction marketing:
Many female entrepreneurs don't even know about attraction marketing. But this is one of the best strategies to include in personal branding. With this strategy, you will attract people who need your products. That will make selling your products easier.

So if you want to learn how to create a fail-proof attraction marketing formula, then read my blog post here. I explain what attraction marketing is, and you will get all the tips that will help you create an amazing formula.
18.) Get to know your audience and connect with them:
If I ask you, "Who is your targeted audience?" – what will you say? You can actually leave a comment below and let me know who they are.

Now before you do that, really think about what you will say. "Everyone" is definitely the wrong answer, and let me explain why. If everyone is your targeted audience, why don't you make sales every time you present a product?

Someone who is looking for a Pinterest marketing course won't invest in weight loss pills. That makes sense, right? So if you want to stop wasting your precious time with the wrong people, then get these TOP questions you need to ask yourself to really get to know your audience.
19.) Be funny and make your audience laugh:
Maybe someone told you to take your business seriously. And I do agree with that, but it should also be fun. Your audience loves to laugh, just like you, me, and everyone else. So if you have a bubbly personality and you make jokes sometimes, then do that in your business too.

You will see a big difference when your audience has fun. And if you don't know what exactly to share with them to make them laugh, here are a couple of ideas:
– Memes (try to find memes that connect with your personal brand)
– Share a funny story (I'm sure something funny happened to you while doing business online)
– Share a funny business quote (you can find them here on Google)
20.) A part of your personal branding strategy should be – a clear life purpose:
What is your life purpose? Why did you start that business? If your only goal is to make lots and lots of money, then you won't get very far. Those female entrepreneurs who are in it just for money usually don't care about their audience. And sooner rather than later, their audience notices that, and they stop following them.

Those female entrepreneurs have to keep rebuilding their empires. But I'm sure you're not one of them. You care about people. So, find your life purpose and focus on it and build your business around it.
21.) Get out of your comfort zone:
Nothing grows in the comfort zone, not even you and your business. But because you are here, reading my blog post, I know you want to achieve more in your business.

So the only way to do that is to constantly be outside of your comfort zone. Maybe you are scared to do live videos – challenge yourself to make at least one this week, and then every week, you challenge yourself more and more.
22.) You should niche down:
It's really important you niche down your business. I'll give you a great example that I saw with my own eyes. There was a beginner blogger who asked for my help, so I checked out his blog. I saw one BIG mistake – he talked about all sorts of different topics.

Now let me ask you a question: if you come to a blog to learn about personal development, but then you also see posts about weight loss, blogging, cars, houses, and other stuff, would you stay there?

My guess is you wouldn't. When people are searching for one thing, they won't be interested in a completely different topic.
So if your business is about weight loss, stick to topics about weight loss.
23.) Believe in yourself:
Do you believe in yourself? Do you believe that you are going to succeed? Maybe you said YES, and I'm really glad you did. But if you said NO, then I have another question for you: Why not?

Look, you need to get your confidence up and start believing in yourself. Anyone can succeed if they have a burning desire and they keep working on their dreams.

Yes, it can take years before you will see great results, but if you quit – you will never succeed for sure! Read personal development books daily, and keep going. Don't forget – you are a badass businesswoman!
24.) Negativity shouldn't be a part of your personal branding strategy:
If you spread negativity, you will be surrounded by it – it's simple as that. You will start losing all the followers who are positive, and they will see you as a bad influence.

You will also get a really bad reputation. I bet that's something you really don't want. So keep your positive pants on and spread the love 🙂
25.) Don't talk bad about others:
This is a part of the negativity we talked about above. And I think this quote fits here perfectly:
When you talk badly about other people, you tell more about yourself – remember that. So instead of saying bad things about others, focus on growing your business and providing value to your audience.
26.) Share stories:
Stories definitely sell, so use them in your business. But don't just share yours; share your customer's stories too. You need to mix things up.

Plus, it's even better when you share a customer's story where they say how good your product is and how much it helped them. Start testing this strategy out, and I'm sure you will start seeing great results.

To learn more, read my Complete Guide To Business Storytelling Without Pulling Your Hair Out.
27.) Another part of your personal branding strategy should be dressing up:
Let's be honest; we trust those people who dress better. But don't get me wrong; you don't need to go shopping for an expensive Prada dress. What I'm saying is, look presentable.
Not only will your audience see you as someone who's successful and worth listening to, but also you will feel more confident. So brush your hair, put on some makeup, and dress nicely.
28.) Keep your promises:
Not keeping your promises can get you in trouble. I'll be completely honest with you – once, I didn't keep my promise, and it didn't end well – can you relate? It's not that I didn't want to keep it; I just forgot.

So don't repeat my mistake. If you tell your audience, you will make a video – make it! And if you don't want to forget your promise, write it down.
29.) Invest in yourself:
I'm talking about investing time and money. You can't expect to build a business for free or with 5 hours of work per week. You invested thousands of dollars in your school and years of your life – your business journey won't be any different.
You need to gain knowledge that will help you build your business, but you will also have to share some knowledge with your audience. You can't receive without giving first.

Invest time and money in the knowledge that will get you ahead in business in life. Set at least 30 minutes to 1 hour per day to learn. Knowledge is power, and the more you know, the more valuable you are to your audience.
30.) Have a personal branding marketing plan:
Personal branding is essential for anyone who wants to make a name for themselves in their industry. It's the process of creating a unique identity that sets you apart from the competition and showcases your expertise and personality.

A personal branding marketing plan is a strategic approach to building and maintaining your personal brand over time. Developing it requires careful thought and consideration. Here are the steps to create an effective plan:
Define Your Brand Identity: The first step in creating a personal branding marketing plan is to define your brand identity. Who are you? What do you stand for? What are your values, passions, and strengths? Answering these questions will help you create a clear and consistent message that resonates with your audience.
Identify Your Target Audience: The next step is to identify your target audience. Who are the people you want to reach with your message? What are their needs, interests, and challenges? Understanding your audience will help you tailor your message to their specific needs and preferences.
Develop a Content Strategy: Content is a critical part of any personal branding marketing plan. You need to create and share content that showcases your expertise and personality. This can include blog posts, videos, podcasts, social media updates, and more. Develop a content strategy that aligns with your brand identity and resonates with your target audience.
Choose Your Platforms: There are many platforms you can use to build your personal brand, including social media, your website, and other online channels. Choose the platforms that align with your brand identity and where your target audience is most likely to engage with you.
Set Goals and Metrics: Finally, set goals and metrics to track your progress and measure your success. This can include metrics such as website traffic, social media engagement, email subscribers, and more. Use these metrics to adjust your personal branding marketing plan as needed and ensure you're making progress toward your goals.
You can also grab my Free personal branding strategy here.
Personal Branding Blueprint:
Are you looking to build a strong personal brand but don't know where to start? The Personal Branding Blueprint is the solution you've been searching for.

This comprehensive guide is designed to help you develop a unique and memorable personal brand that sets you apart from the competition.

So, what exactly is the Personal Branding Blueprint e-book, and what makes it so special? Let's take a closer look:
It has strategies for creating a powerful brand identity that communicates your unique strengths and values,
building a strong online presence,
creating compelling content,
And leveraging social media to expand your reach and establish yourself as an authority.
The Personal Branding Blueprint provides a comprehensive guide to building a strong personal brand, growing your influence, and achieving your personal and professional goals.
So now you are ready to create an amazing personal brand!
Here are more blog posts you'll find helpful:
---
Did you get some value from this blog post about 30 Personal Branding Strategy Ideas For Female Entrepreneurs? I hope you did because every week I put my whole heart into giving you the most amazing tips and strategies that help you succeed in your business.

If You Love Sharing Valuable Info Then Share This On Your Favorite Social Media