Do you feel your business is stuck and you need some kickass fall marketing ideas to skyrocket your sales?

Maybe you're not sure how to promote your products without sounding salesy.

You're not alone. We all have been there, especially throughout summer when business is usually slow.

Oh yes, I feel your pain. But it's not your fault. And hey, you land on my blog post for a reason.

You will get some of the best marketing ideas that will boost your sales and brand recognition.

These ideas will also help you stand out from the crowd this fall! Sounds cool? Ok, then read on.

Before we start with the fall marketing ideas, I would love to connect with you. So I invite you to our free coaching group where you'll be supported by many amazing boss babes.

You will learn more about Social Media and growing your business. Join us here (we have cookies hehe).
---
1.) Big Discounts For Holidays:
Holidays can be very magical. I'm not talking about the feeling you get when you're celebrating with your family – which is totally magical.

I'm talking about the magic of increasing your income.

Hear me out. Around holidays people are usually searching for great deals which means they are ready to buy.

Instead of trying to sell your products for a full price, give them a big discount. They won't be able to resist it. It's a win-win situation for you and them.

So, what holidays are coming up? You have to get ready and start planning ahead. All successful entrepreneurs plan months in advance.

It's time to prepare your discount codes, content, and promotional images.
2.) Fall Photo Contest:
Who doesn't love contests? They are great for Social Media engagement and brand recognition. So what kind of contest can you do?

Because the theme is Fall/Autumn, your followers should share their best or funny fall photos. The photos can be of anything – nature, their family, pets, or anything else.

But don't forget to set some rules because contests have prizes. And you probably don't want to reward people who are not following you. Your fans won't like that.

So some of the rules could be:
– they need to follow you,
– tag a friend,
– leave a comment (in this case an image)

Stick to simple rules, because no one will participate if it's going to be too hard and complicated.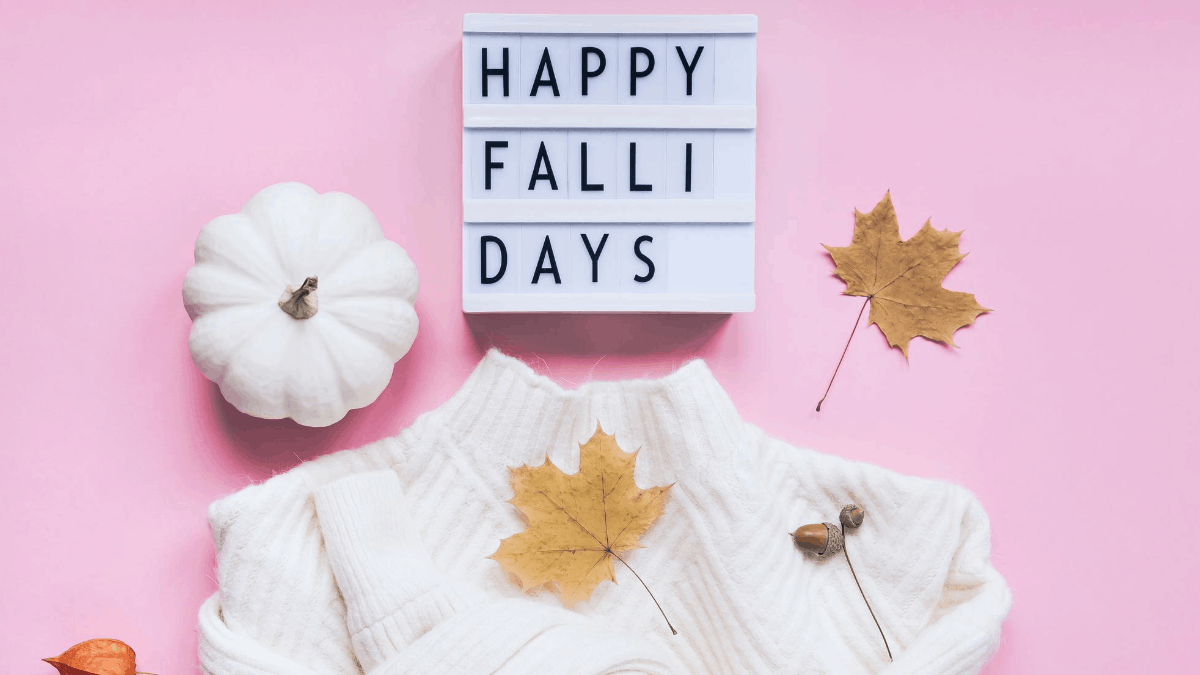 3.) Fall Flash Sales:
Flash sales are basically discounts that are available for a very short period of time – even for just one day!

These can be very powerful because they create a sense of urgency. Put a countdown timer on your sales page with a good discount and your revenue will increase.

I use Elementor Pro for building my sales pages and it has the countdown timer included. Let me tell you, it really helps a lot.

Of course, that won't be enough. You will still need to promote your flash sale on Social Media. And your content will have to be persuasive and inviting.

Usually, no one buys because the sales copy just isn't good enough. So make sure you take your time and craft really great sales content. Also, create some scroll-stopping images to go with it.
4.) Fall Bundle Offers:
Can you bundle up a couple of your products or courses? You could put together the top 3 best-selling products and offer them for a really good price.

You can also create urgency by telling your followers the bundle is available for only 3 days then it's gone forever (or at least till next autumn).

Think of different ways you can create urgency and promote the bundle. You will be amazed at how many people will actually grab the offer.
5.) Fall Marketing Ideas – Free Shipping:
How many times did you buy something because you didn't need to pay for shipping? I did that many times – too many.

Shipping can be quite expensive. And if people can avoid paying for it – they will definitely take advantage. It's just a little hack we all fall for.

If you're selling physical products, then this is definitely a great fall marketing idea you should try.
---
---
6.) Fall Marketing Ideas – Giveaways:
I know giveaways won't make you money because you have to give a product for free. But don't look at it like that.

Giveaways are amazing for brand recognition and gaining more followers & fans. You need to expand your business and this is the way to go.

People love brands that give away free stuff. So instead of thinking how can you make money right away – why not think long term.

All the new followers you will get will actually be your potential customers. The winner of the giveaway won't buy the product, but they might love it so much and recommend it to others.

Or they might buy a different product. It doesn't matter – what matters is that you get in front of more people. You want traffic, right?

So here's what you should do. Just like the contest, your giveaway should have some rules. You can use the same ones as I mentioned under the Fall Photo Contest (point #2 in this blog post) – or you can create different rules.

Just make sure the rules help you get in front of more people. That's how you increase traffic.

If you want to get more personal branding tips that will help you get in front of people, read my blog post: 30 Personal Branding Strategy Tips For Female Entrepreneurs
7.) 20% Off On All Products:
Many entrepreneurs and business owners are giving 20% off of all products so you know this strategy works. Why not test it out?

You might think that 20% is not enough but let me tell you something. I'll go into the basics of psychology – nothing fancy.

Sometimes a higher discount can backfire on you. That's because some people connect a huge discount with a bad quality product.

How many times did you buy a product that was 80% off? You brought it home, used it once and it broke. Unfortunately, that was happening to me a lot.

And most of the people experienced the same thing. That's why we think the product is bad if it's discounted too much.

Plus you have to know the value of your product. If it actually helps, why would you give 80% off?
8.) Limited-Time Offers:
You can have these kinds of offers available for up to a week or so. I wouldn't suggest you make the offer longer than that because then it loses the urgency.

People take their time to think (because they know they have time), then they forget about your product and don't buy it. So don't do that if you want to increase sales this fall (or any other time).

Choose your best selling product and give it a good discount (20-30%) but for only one week. Craft your content in a way that increases urgency but don't hype it up too much. Nobody likes hype!
9.) Goodbye Summer Sale:
Summer is slowly slipping away and fall is right around the corner. So it's the perfect time to celebrate with the "Goodbye Summer Sale".

It's like spring cleaning for your business. If you have any summer-related products now would be the time to give them a good discount.

Even if your products are not summer-related, you can still do this. Chose 1-3 products that you want to sell more of, prepare a discount code, and voila – you're ready!

This would be a proper way to say goodbye to summer and hello to wealthy fall (get it – because you'll make more money hehe).
10.) Pay What You Want:
I have been seeing an increase in this "trend" lately. So basically what you do here is tell your followers to pay their desired amount for your product.

You might be thinking that this is completely insane and people would probably pay 1$ or not even that.

Actually, that's not the case. Usually, people are generous. Well ok, maybe not all of them, but you can still protect yourself. I'll explain it below.
I was using SendOwl to sell my digital products (now I use Podia). This online platform/tool also processes the payment so it makes it easier for me.

Inside, there is an option to set up your product as "pay what you want". When you choose that option, you can also set the minimum amount your buyers have to pay.

So let's say you decide the minimum amount is $7. The buyer can pay $7 or more – but not less. So you see, you're totally safe here.

If you have your own digital products or you're planning on creating them – but you don't have an option to test the "Pay What You Want" strategy, then take this free 30-day trial with Sendowl.

You will love it! It's one of the best and easiest platforms to use for selling your digital products or services.
11.) One Week Of Special Deals:
This is similar to a limited-time offer. The only difference is, you choose 7 different products and then you promote one product per day.

And no, you are not going to annoy your followers or be spammy. Just be honest with them and tell them you're having a whole week of special deals for different products.

Who doesn't love a nice discount on their favorite product, right? You can get extra points if you mix your sales posts with a good inspirational story.

Stories always sell. And don't worry if you don't know how to tell a powerful story. I put together a whole formula for storytelling and you will also get content strategies and tips. You can grab your copy here.
12.) Fall Marketing Ideas – Freebies:
Creating a helpful freebie and sharing it with your followers can do wonders for the growth of your email list.

Freebies are consistently bringing me over 600 new email subscribers every month (this month I got over 800 subs). If you want to increase brand awareness, then you should consider this strategy.

I'll share some of the most important freebie tips you should follow if you want this to work for you:

1.) Your freebie should closely relate to the product you want to sell. If you miss this step, you won't see great results.

2.) They should be very valuable, which means, creating something with basic knowledge won't work. Help your followers get some real results.

3.) If you want your subscribers to trust you, you will have to create email sequences where you will build relationships.

Email sequences are a series of relationship-building emails that you create upfront. They get sent out automatically at a specific time you set up. Each and every email should help your audience and you shouldn't sell your product right away.

If creating emails sounds stressful and confusing to you, then grab The Email Marketing Fairy where you will get:

– An 11 Part Take my Money Now Sales Funnel
– 7 Part Authority Building Welcome Series
– 3 Cart Closing/Last Chance Emails
– 25 Grab 'n' Go Weekly Email Newsletter Templates
– 3 Part List Resurrection Series (if you haven't emailed your list in months)
– 3 Emails if things go wrong (if you make a mistake)
– Breakup Series to remove dead weight from your list (3 Part)
– Plus 222 Subject lines

This saved me a ton of time and increased my sales so I do recommend it. Get your Email Marketing Fairy here and create your email sequences faster than ever.
13.) Promote Your Business With Fall Humor:
Do you love laughing? I know, it's a silly question, but I want to make a point here. Remember the last time someone made you laugh and you instantly liked them more.

This is a simple yet powerful trick that will help you skyrocket your sales. Start using funny GIFs, memes, or jokes that are somehow connected to your business or niche.

You can think about what happened to you in your business and turn it into something funny. You could even go viral! Can you imagine what that would do for your business?!

So go on Canva and create a meme, GIF post, or even a comic. There are no limits – well except one – DON'T BE RUDE. If you offend your followers, the end results will be completely different and you won't like it.
14.) Fall Marketing Gift Guides:
This is a really smart idea because people always search for gift ideas and guides. And don't forget, Thanksgiving is in fall – so start planning a gift guide for that.

You could kill two birds with one stone (not literally!) if you create a guide as a freebie. Not only will you sell more but you will also grow your email list.

The sky is the limit – or actually, there is no limit.
15.) Social Media Related Fall Marketing Ideas:
When you think of autumn, what do you first see in your imagination? Maybe colors, beautiful colorful nature, or anything else. And if you love autumn then it probably gives you a great feeling when you think about it.

Most of your followers are the same. So what I'm trying to tell you is – create an autumn/fall scene on your Social Media platforms.

Change the cover photo in the Facebook group or on the page. Start creating images that have fall motives.

Right now you might be thinking: "But Petra, what about branding? Shouldn't we brand ourselves with colors we usually use?"

While that is true, it doesn't mean you can't create a fall scene. Just look at my brand color which is pink.

It's not going to be easy. However, I will still create an autumn scene to make you feel those warm feelings. You know when you put on your favorite pair of fuzzy socks and sip that yummy hot tea – those kinds of feelings.

So maybe you will have to dig a bit deeper to find good photos, but it will be worth it. If this comforts you – we are in the same boat hehe.
So what can you change on your Social Media accounts:
– Cover photos
– Your profile photo
– Create posts & videos with a fall theme
– Share some fall captions
– Use autumn emojis 🍂🍁🎃🌽

You don't need to create everything in the autumn theme, but here and there won't hurt your business. Try it out and let me know your results.
Conclusion On The Fall Marketing Ideas:
If you'll include a couple of the fall marketing ideas that we covered above, you will see an increase in your income.

The point of testing the ideas above is to put yourself and your products out there. People don't buy if they don't know what you're selling. And the discounts are there for your followers to make buying decisions faster.

Each season feels like the beginning of something new. That's why you should take advantage of the marketing ideas in this post and stand out from the crowd.

Most entrepreneurs don't think and plan ahead, but you're different. Go through the ideas again and write down all those that resonate with you.

Then all you have to do is plan your Social Media content. When are you going to promote your products, what kind of messages and stories will you share, what freebie or product will you give away?

Write everything down so you will be ready when the time comes. Fall is right around the corner so don't sleep on these 15 powerful fall marketing ideas.

Now it's your turn – tell me in the comments below, which one of these ideas will you test out first?
---