If you're searching for summer marketing ideas, you have come to the right place. Usually, the business is slow in the summer months; however, it won't be for you.

With these summer marketing ideas, you will be able to stand out from the crowd and increase your income. Let's make this summer even hotter with the right marketing ideas.

Before you read about these 17 summer marketing ideas, I would like to invite you to our amazing community, where you'll learn all about Social Media, Pinterest, and other amazing business tips.
This post includes affiliate links to products I love and recommend, meaning I may receive a small commission at no extra cost to you. I will use the earnings to maintain my blog and business so that I can deliver more value and knowledge to you.
17 SUMMER MARKETING IDEAS
1.) Holiday Sales:
There are many interesting holidays in the summer months. But before you can create special offers, you have to know which holidays are coming up.

Below you will see all the big USA holidays that will help you get prepared. I also included some of the fun and weird holidays that will help you with summer marketing ideas. Save this blog post for next time when you will need to see the whole list.
JUNE:
| | |
| --- | --- |
| June 1 | Dare Day |
| June 5 | Hot Air Balloon Day |
| June 7 | World Caring Day (and my Birthday 😉) |
| June 8 | National Best Friends Day |
| June 11 | National Making Life Beautiful Day |
| June 18 | Father's Day |
| June 19 | Juneteenth |
| June 21 | National Selfie Day |
| June 30 | Social Media Day |
Do you need more content & marketing ideas for June? Then check out these 100+ Killer June Social Media Ideas + Free Content Calendar.
JULY:
| | |
| --- | --- |
| July 4 | Independence Day |
| July 7 | World Chocolate Day  |
| July 11 | All American Pet Photo Day |
| July 15 | National Give Something Away Day |
| July 16 | Artificial Intelligence Appreciation Day |
| July 17 | World Emoji Day |
| July 21 | National Be Someone Day |
| July 26 | National All or Nothing Day |
| July 31 | National Mutt Day |
Don't forget to check out these 100+ Killer July Social Media Ideas + Free Content Calendar
AUGUST:
| | |
| --- | --- |
| August 1 | National Girlfriends Day |
| August 1 | Respect for Parents Day |
| August 2 | National Ice Cream Sandwich Day |
| August 4 | Assistance Dog Day |
| August 5 | National Work Like A Dog Day |
| August 9 | National Book Lovers Day |
| August 10 | Lazy Day |
| August 15 | National Relaxation Day |
| August 16 | National Tell a Joke Day |
| August 19 | World Photography Day |
| August 26 | National Dog Day |
You might also love to read: 100+ Killer August Social Media Ideas + Free Content Calendar
For each of these holidays, you can create a special offer. Maybe your perfect customers are moms, so you can celebrate 'Respect for Parents Day' (August 1) with them and offer 20% off of your products.

If you don't want to celebrate those funny or weird holidays, then at least plan your summer marketing ideas for the big holidays, for example, the 4th of July (Independence Day).

Here are some 4th Of July Captions For Instagram To Help You Boost Engagement.
2.) Host Fun Summer Giveaways:
Who doesn't love giveaways, right? This is a perfect marketing idea that will help you get more followers and grow your business fast.

First, we have to talk about what to offer your followers. You can create an ebook, mini-courses, or give away any product that you have. As long as it's valuable to them. To enter the giveaway, your followers should like, comment, and tag a friend.

Below are some simple Social Media caption ideas for summer giveaways:
"Oh, the temperature this summer is really high. Let's raise it even more with a giveaway!"
"Happy 4th of July, everyone! Let's celebrate together with a giveaway!"
"It's super hot today. Wanna cool down a bit? Enter our giveaway!"
"It's the first day of summer, and it's time for a giveaway!"
"Who's up for some cool summer giveaway?"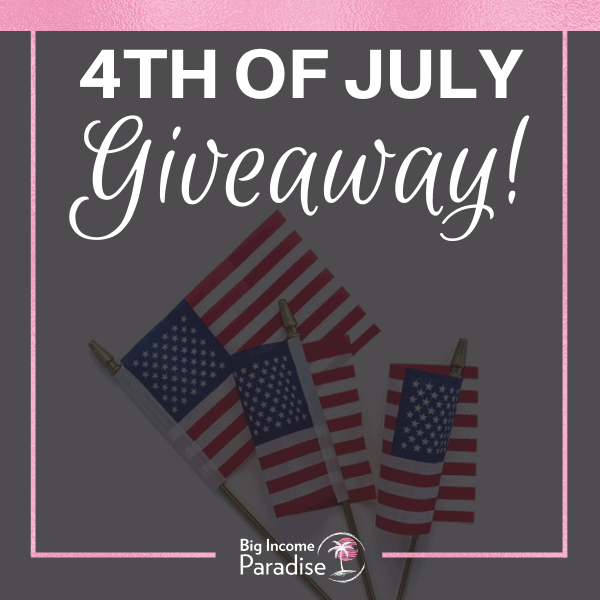 3.) Spice It Up With Summer Visuals:
You will attract more followers if you use interesting images. Statistics say that posts with images get over 40% more interaction, so start thinking about your design. Here are a few points you should think about:
What summer colors would attract more followers? Maybe orange, green, blue…
What elements should be included in the images? Maybe sea, sand, palm trees…
What fonts would be the best for your design?
Are the finished image designs fun & beautiful, or do they look unprofessional?
When you figure out what design you will go for then the next thing you can do is re-design your Social Media accounts. I'll share more about this on point #17 of the summer marketing ideas, so keep reading.
4.) Hot Sales Are Great Summer Marketing Ideas:
There is nothing more perfect than hot summer sales. You can offer a really nice discount or create a bundle of products for a special price.
Temperatures in summer are usually high, so why not "celebrate" that with a hot sale? Who said you couldn't raise the temperature even more with a good offer? Don't forget to mix hot sales with some attention-grabbing summer graphics.
5.) Host Summer Photo Contests:
Contests are super fun, and they will increase your engagement for sure. To enter the contest, your followers should share their best vacation photo (or anything else). You can then choose 1-3 winners and give them a gift.
It's a really simple yet effective idea if you want to grow your engagement. Plus giving away free products will always attract more followers. The summer contests will definitely help you grow your business fast.
6.) Hot Flash Sales:
These sales are only available for a short period of time – maybe up to 3 days. That's why more people will take action and buy your product.
Choose the best-selling product and give a nice discount on it. Then tell your followers the hot flash sale is available for only 3 days.
There is another great option called the "3-day hot flash sale." Choose three different products and offer a discount for one day on one product. Here's an example:
First day: give 30% off on product #1
Second day: 30% off on product #2
And the third day: 30% off on product #3
7.) Freebie Summer Marketing Ideas:
Freebies are great for growing your email list. That's why you should include this marketing idea in your business plan. Everybody loves free stuff; you just have to create something that your followers want and need.
You should plan it all out. Before you create a freebie, think about the product you want to sell. It's really important that your product and freebie are closely connected (they should cover the same topic).
Check out these 10 Awesome Blog Opt-in Freebie Ideas and decide what kind of freebie you will create. Then your last step is to create email sequences that will help your subscribers even more. And in the end, you will sell your product.
If you're not sure how to write powerful emails that sell, then check out the Email Marketing Fairy 3.0. What's included inside:
A collection of over 60+ Email Marketing Templates (including examples) covering a wide range of email campaigns, from weekly newsletters to sales funnels and everything in between.
8.) Host a Summer Online Webinar:
Webinars can be really effective for growing your business. Choose a fun summer topic your audience is interested in.
Here are some webinar title ideas that work for any business in any niche:
How to ____________ this summer.
Learn all about the summer ____________.
(7) Summer tips to ____________.
Summer ____________ 101: From ____________ to ____________.
Exclusive Summer workshop: How to ____________ in a week.
New summer ____________ for ____________.
____________ summer trends to follow.
9.) Offer One-Day Only Summer Discount:
Choose a specific day – it can be a big holiday like for 4th of July, your Birthday (if you have it in summer), or any other special day. Start building curiosity a week earlier; just don't share everything.
When the day comes, promote the summer discount. Tell your audience the offer ends in 24 hours, so they should take action now.
VERY IMPORTANT: never give more than 35% off, except when you are "clearing the shelves" (example: 40-50% discount on outdated courses you're planning on updating soon.)
10.) Post Summer Behind-The-Scenes Photos:
Let your followers see what's happening in your life. They will get to know you better, which will help you in the long run. The more they know you, the more they can relate to you. And that's the goal you can achieve with awesome behind-the-scenes photos.
I'll share some cool ideas with you:
Share a vacation photo (it can be of you and the sea in the background or anything else)
Take a photo of what you will wear (cute summer clothes)
Share a map and show your followers where you're going on vacation
Love ice cream? Share a photo of your favorite ice cream
If you have a favorite summer makeup – show it
Share the must-have business tools/apps for this summer
Is it sunny? Show your outdoor office
11.) Use Summer Emojis:
I don't need to explain much here. However, many entrepreneurs don't exploit emojis. Let me explain why you should.
Have you ever seen a longer post with no emojis? You probably did. But did you read it? Well, my guess is you didn't simply because it didn't stand out and it looked boring.
To stand out from the crowd you should start using the summer emojis. Well, it's summer, after all – the winter emojis would look weird. This will give your posts a pop of color.
12.) Summer Marketing Ideas With Polls:
Polls are fun all year long, not just in summer. This is another great way to get more interaction from your followers.
Ask any summer-related question, give your followers a couple of options to choose from, and voila – you have created a fun poll.
Below are some of the questions you can use right now:
Would you rather: swim in the sea or swim in the pool
What's your favorite summer "activity": picnics, swimming, tanning
What are you MOST excited for this summer: travel, swimming, picnics, ice cream
What's your favorite ice cream flavor: vanilla, chocolate, strawberry, lemon
What's your favorite vacation destination: tropical place, mountains, near a lake
What do you love doing most in summer: hiking, relaxing in a hammock, picnics, traveling, tanning
What sound do you love most in summer: crickets, cicadas, waves, summer rain
13.) Summer Marketing Ideas – Collaboration:
It's always a good time to collaborate with other fellow entrepreneurs. Find someone in your niche and ask them if they would do a live video with you.
Choose a fun summer topic related to your industry, dress up with some fun bright colors, and go live. You can create an interview or just chat about the topic you chose.
Here's a fun idea if you're in the makeup niche: you and the person you're collaborating with can make a video where you create summer makeup looks.
Not only would this be fun, but you could also show off your products. Think about what you can create that relates to your niche, and write down all the ideas.
14.) Trending Summer Topics:
You will have to do a bit of research. What's trending in your niche this summer? Write about that or create a video. Trends are always great for engagement.
Let's look at some bigger niches and the summer trends:
Health & Fitness: workouts ( HIIT, cardio, cycling, family workouts…), health (smoothie recipes, alcohol-free drinks, healthy summer meals…), skincare routine…
Weight loss: best summer diets, intermittent fasting, keto diet, paleo diet…
Travel: best tropical places, road trips, camping, interesting facts about specific destinations…
Pets: how to take care of your pet in Summer, pet summer fashion, pet summer nutrition…
Relationship & dating: best places to go on a date this summer, what to wear on a date…
Finance/money: how to save money this summer, best summer jobs for extra money, how to make money online this summer, summer side hustles…
Fashion: what's IN this summer, perfect summer colors to wear, summer jewelry…
15.) Share Summer Tips:
You can share any summer tips with your followers. I do recommend that most of them are related to your niche, but you can still share any other tips here and there. Your followers will definitely appreciate them.
Start thinking about the things your followers are usually struggling with in the summer. It can be: how to pack your backpack, or how to go to tropical places for less money, what smoothies are perfect for summer weight loss, and so on.
16.) Celebrate Fun, Wacky & Bizarre Summer Holidays:
Growing your business should be fun; that's why you should celebrate wacky or bizarre summer holidays.
Above, I shared some fun and bizarre summer holidays, but if you want to see more of them, then check out this list of weird holidays in 2023.
Have fun with these holidays, make your followers laugh, and you will skyrocket your engagement and income.
17.) Revamp Your Social Media Accounts:
You can create a new summer cover photo and maybe even change your own picture. Think about summer colors and elements you want to include. How do you want to present your business and yourself?
And if you're thinking about changing your profile picture, then dress up in fun summer clothes; just don't use sunglasses. Your followers have to see your eyes and a beautiful, inviting smile.
You could even fix up your blog; just make sure you use your brand collars. I don't think it's smart to re-brand your blog colors every 3 months. It would confuse your audience, and they would probably stop following you.
Conclusion For Summer Marketing Ideas:
These TOP 17 summer marketing ideas will definitely help you stand out and grow your business fast. Your followers will have more fun engaging with your content, and I believe you will also enjoy creating it.
Go through this list of summer marketing ideas again, write them down, and then create your business plan.
Which one of these marketing ideas will you try out first? Let me know in the comments below.
---
Need more post ideas for your business? Supercharge your business with these 7+ Years of Social Media Content Ideas, the ultimate bundle that will transform your online presence and ignite endless engagement with your audience.
---
You might be interested in these blog posts: