Halloween is right around the corner, so why not use funny Halloween memes to boost engagement and skyrocket your business? 
Many successful entrepreneurs say that memes helped them get a more significant reach. Their followers enjoy this kind of Social Media posts because they are entertaining. 
Suppose you heard of 3 E's of excellent content marketing strategy. If not, then here's a short explanation. Those 3 E's stand for Engaging, Entertaining, and Educational. Your content has to be a mix of those. 
And funny Halloween memes are very entertaining. So why not test one of them out this year? It will skyrocket your reach, and your follower will get a good laugh. That never hurts.
But before you read on the whole post, I would love to invite you to our Facebook group. It's a community of ambitious and supportive boss babes. Inside, you will learn all about Social Media marketing, business tips, and strategies. So come and join us here and see you on the other side.
Why should you use memes for business?
Like I explained above, memes will help you attract more followers. That's because everyone loves entertainment.
You might be thinking that memes will make your followers think you are not a serious business owner. That's never the case. People love seeing funny things that businesses post.
It will also increase your engagement, which always helps. You might even get more shares. That means you will get in front of a new audience. You wouldn't say no to free advertisement, right? 
So post a funny Halloween meme, and let me know about your results.
---
You might also be interested in these 100 FREE Social Media content ideas.
---
Funny Halloween Memes
All the memes below are created by yours truly. I made them in Canva. And yes, you have my blessing to download and use them. You can also use the post example (text) that goes with the image. 
1.) 2020 is scarier than Halloween!
2.) Would you go inside?
3.) Oh well, at least once per year, I look good!
4.) Don't want to spend money on a Halloween costume? No problem, here's a solution!
5.) My response: 🖕
6.) Happy Halloween! Let's face it, no one will stand out.
7.) Every day is Halloween for me.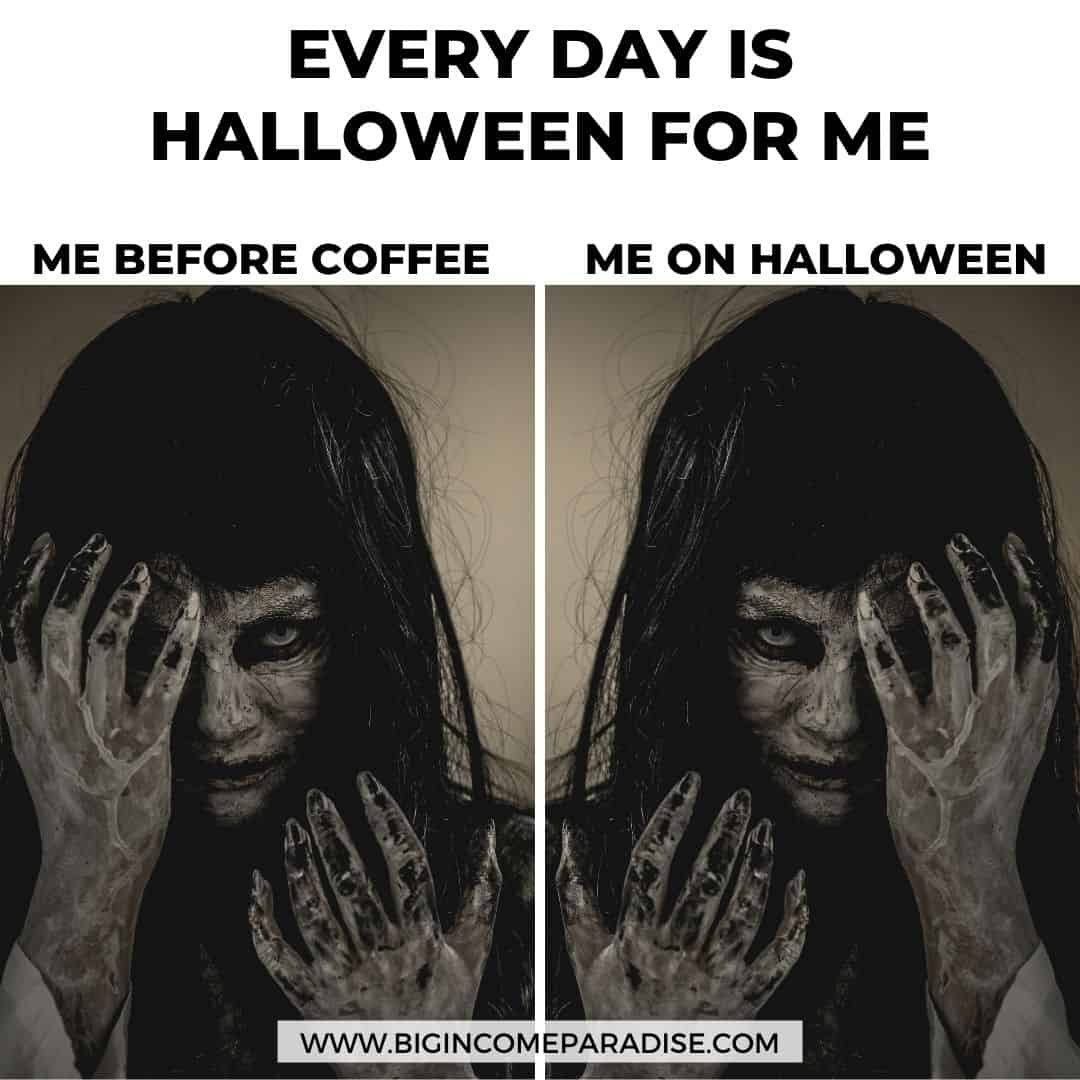 8.) I'm not going to be surrounded by such negativity!
9.) That face. We all do it, don't we?
10.) Brace Yourself! Halloween meme costumes are coming!
11.) Come on! It's Halloween! Entrepreneurship should also be fun.
12.) How many of you will have this Halloween costume?
---
RELATED POST: 15 Insanely Clever Fall Marketing Ideas For Your Business
---
13.) Are you also this obsessed with Halloween? 
14.) After all, I'm an entrepreneur!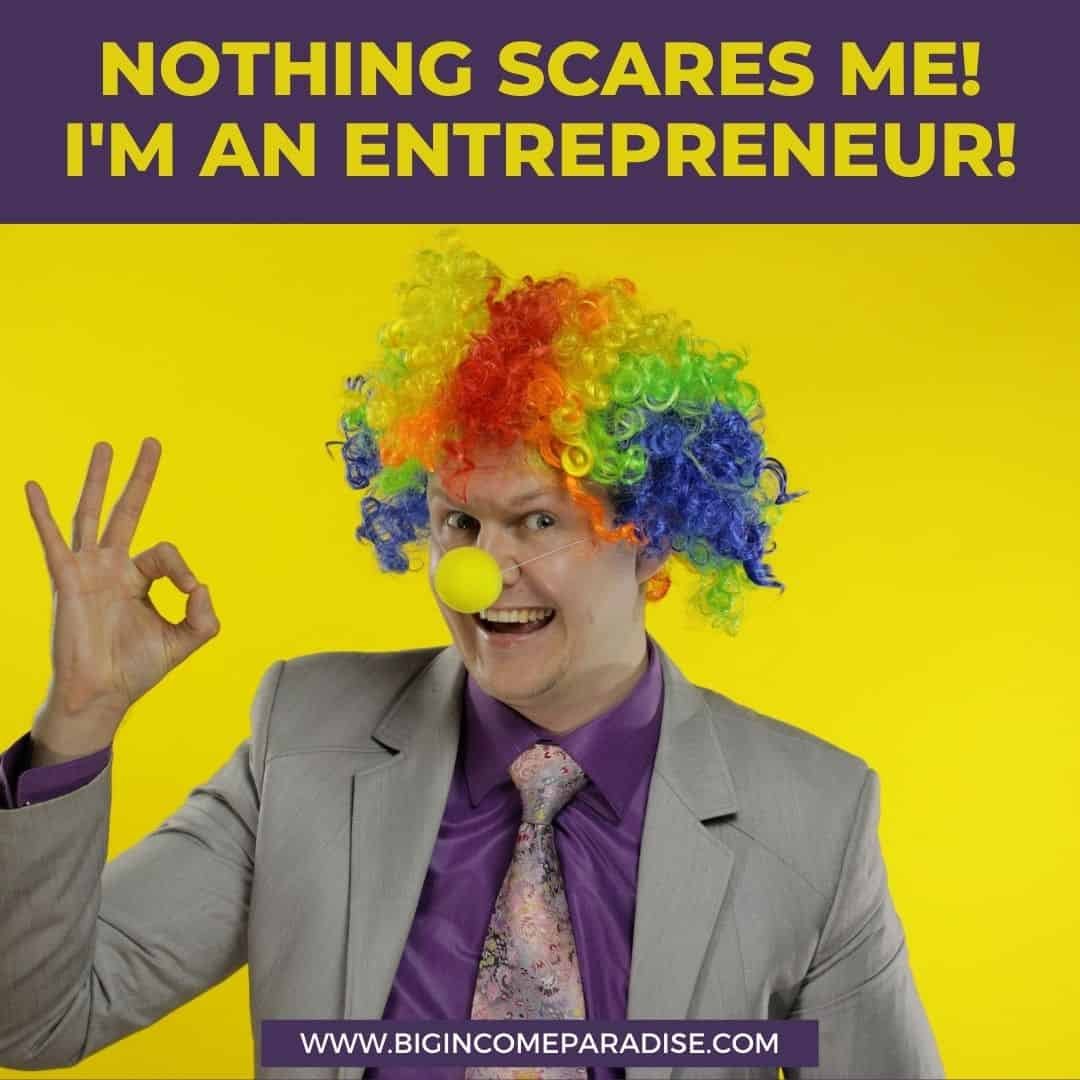 15.) Haha, Happy Halloween! And yeah, you better run! 
16.) I'm asking for a friend. 
17.) Happy Halloween! Give me some love ❤️
18.) I have to agree with this. Happy Halloween, Y'all!
---
RELATED POST: 145 Unique Fall Instagram Captions For Small Business
---
19.) Happy Halloween! Now get in! It's going to be a hell of a ride!
20.) I think I said too much 😲 Well, happy Halloween!
21.) Let me know 🍷 , and Happy Halloween to all!
Freebie – Fun Halloween Marketing Ideas:
So here we are at the end of funny Halloween memes. I hope they made you giggle. But I have another surprise for you.

Here are some very fun Halloween marketing ideas that will help you skyrocket your sales. You can get them here, or click on the button below.

Now over to you – from 1-21, which of these funny memes are you going to use? Share in the comments below.