Do you ever struggle to come up with new content for your business? If so, then you'll want to take a look at these 100 Social Media post ideas! Start using them daily to build a strong community of engaged followers.
You know that Social Media is a powerful tool to communicate with your potential customers and generate new leads for your online business. So check out this extensive list of ideas and let them inspire you.

You can bookmark this page to have them handy for future use!
---
For more marketing tips, tricks & hacks join our coaching community of ambitious & supportive boss babes.
---
100 Social Media Post Ideas
Quotes
Quotes are great for increasing engagement because they are inspiring. Your audience is more likely to comment on your post or even share it because they can relate to it.
1.) Never judge people by their past. People learn. People change. People move on.
2.) Don't ever save anything for a special occasion. Being alive is a special occasion.
3.) When you see something beautiful in someone, tell them. It may take a second to say, but for them, it could last a lifetime.
4.) If something feels off, it usually is. Trust your intuition. 
5.) You never realize what you have until it's gone. Toilet paper is a good example.
6.) It's funny how nobody notices all the good things you do until you don't do them.
7.) I know some people don't like me, but what can I do – not everyone has good taste.
8.) Be careful when you follow the masses. Sometimes the M is silent.
9.) When the past comes knocking, don't answer. It has nothing new to tell you.
10.) Entrepreneurship is like a walk to the park…Jurassic park!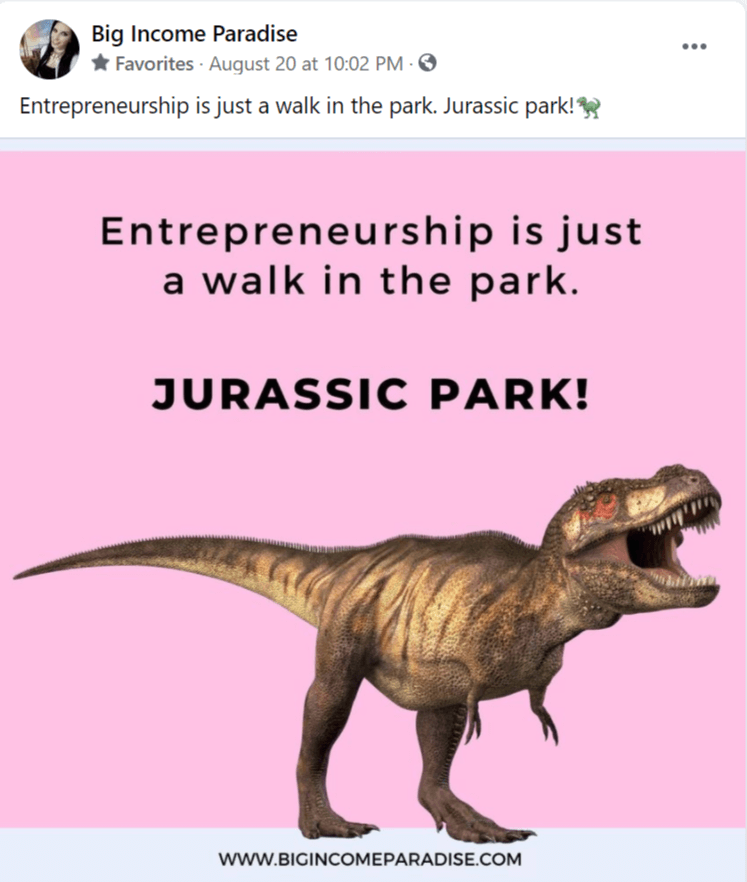 You might also like to read these related blog posts:
Fill-in-the-blank posts
Fill-in-the-blank posts are a great way to interact with your community. They'll love to participate in this content because it's easy and fun.
11.) If I could own any business in the world, it would be __________________.
12.) My favorite place to vacation is __________________.
13.) My favorite Social Media platform is __________________.
14.) If I could have dinner with any leader tonight, I would have dinner with __________________.
15.) My favorite personal development book is __________________.
16.) I want to learn how to __________________.
17.) I wish __________________.
18.) If I would have 10 Million $ I would __________________.
19.) I'm really good at __________________.
20.) The best word that describes my workday today is __________________.
21.) If I could be the CEO of any company, I'd be CEO of __________________.
22.) My favorite thing to do after a long business day is __________________. 
Polls
A poll question is the easiest and fastest Social Media post you can create! And because users can easily click on one of the options, this type of content is one of the most engaging!
23.) What's the biggest challenge you currently face in [TOPIC]?
24.) What are some of your 3-6 month goals in your business?
25.) What's the most enormous stress in your job?
26.) What is the #1 biggest obstacle to achieving your goals?
27.) What is one of your biggest hurdles when it comes to [TOPIC]?
28.) What usually holds you back from making a purchasing decision?
29.) What values do you look for when purchasing a product?
30.) What people do you trust most for advice on [TOPIC]?
31.) How much are you prepared to invest in [TOPIC]?
32.) What's holding you back from investing in [TOPIC]?
33.) On what Social Media do you spend the most time?
34.) What topics are you interested in most in [INDUSTRY]?
35.) How frequently do you feel stressed out at work?
36.) If you would quit your business tomorrow, what would your reason be?
You can get even more poll ideas here: 60+ Amazing Social Media Poll Questions To Skyrocket Your Engagement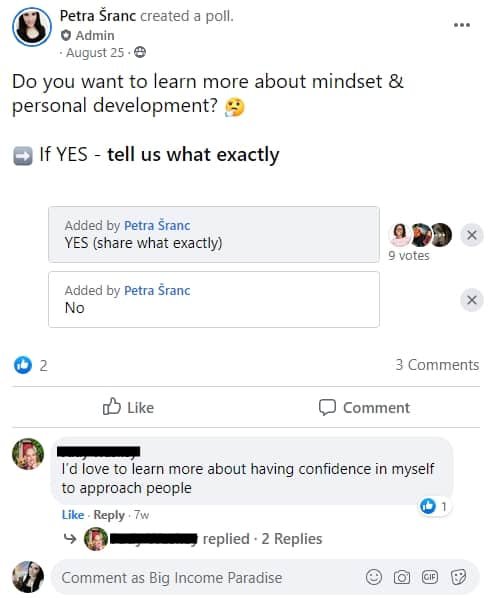 Behind-the-scenes photos
Do you know how many people want to get a peek into your life? Many! You just have to be willing to share. So why not create some behind-the-scenes photos for your audience to enjoy?
37.) Photos of events you go to
38.) Photos of you having a professional photoshoot
39.) Photos of you creating a new video
40.) Photos of your office/workspace
Questions
Did you know that when people see a question on Social Media, they can't help themselves but engage? So here are some question ideas that you use right now.
41.) What are some of the qualities of a great mentor?
42.) Do you have a clear vision and goals for your business?
43.) How long have you been with your business?
44.) What are you passionate about?
45.) How much $$$ did you invest in yourself?
46.) Are you an introvert or extrovert?
47.) Which Social Media do you check last – before you go to sleep?
48.) How many people do you interact with on social media each day?
Post a Branded Photo
A branded photo is vital for entrepreneurs and marketers to tell your company's story and gain brand awareness. When you're creating a branded image, create something that people can connect with. Choose your colors, fonts, and don't forget to include your logo.
49.) Post a funny photo about your niche – include your logo
50.) Post an inspirational photo (before – after) – include your logo
51.) Share a beautiful photo with a quote – include your logo
52.) Post your selfie – include your logo
Link To Blog Post
Sharing your blog posts on Social Media can effectively drive traffic back to your site while growing your audience and authority online. So here are some ideas you can test out.
53.) You can link to your last blog post
54.) You can talk about what you wrote in the last blog post and let your audience know if they want to learn more, they have to contact you for the link to your blog post
55.) You can also link to someone else's blog post
Share Value
Sharing valuable content will help you grab the attention of old and new followers. Why? Because people don't follow you just for the quotes and funny cat posts. While it can be entertaining and inspiring for a while, it can also get pretty boring.
People are more likely to share your content if it has valuable information that helped them solve a problem or better understand a situation.
56.) Talk about your story (your struggles, what you did to achieve your goals…)
57.) Share someone else's story
58.) Give a great tip of the day
59.) Create a mini-course
60.) Share DO's & DON'Ts
61.) Post about a roadmap to success
62.) Share the biggest mistakes that you (or someone else) made
---
You might also love: 120 Killer Social Media Content Ideas Your Audience Will Love
---
Ask For Feedback
Showing your audience that you value their opinion is priceless! Giving your customers a chance to provide feedback can lead to enhanced relationships! And you'll also be surprised at how much you can learn by reading through the responses.
63.) Ask which photo is better (you can show two selfies or any other photo)
64.) Ask your audience which products they prefer
65.) Ask about what they want to learn next (give them 2-5 options)
66.) Ask if they love your posts or if you should change them
Share Your Favorite Things
Share more about what you love so your audience can get to know you better. That's beneficial because it builds trust and makes people more likely to engage with you.
67.) Your favorite personal development book, hack, or habit
68.) Your favorite product
69.) Your favorite mentor
70.) Your favorite motivational speaker
71.) Your favorite Social Media strategy
---
You might also love: 333 Killer Social Media Questions To Skyrocket Your Engagement
---
A Day In The Life Post
These posts are great because they can give your audience a glimpse into your life and show them how you live. They are more likely to relate to you and leave some meaningful comments.
72.) Share your whole day: when you wake up, what you eat, which exercises you do, what do you read, learn, what are you planning next, what do you do with your family
73.) Weekend day in the life post: where you go with your family, what are you doing, show how you enjoy life
Share Work or Life Balance Tips
You wouldn't believe how many people are struggling with those issues. So sharing work or life balance tips is going to make them love you!
74.) Share how you manage your time
75.) Talk about what tools you use that help you save time
76.) Share how you plan your week
77.) Post about how you spend your free time
---
This blog post might interest you: 70+ Interactive Facebook Posts For Killer Engagement
---
Share Some of Your Memories
Take your followers down memory lane. Talk about some of your best moments and also give them a chance to share theirs too. People love sharing the happiest times of their lives!
78.) Share your photos of some vacations
79.) Talk about your results in the past
80.) Share your photo when you were a kid and create a post called "A letter to my younger self."
Share a Meme or Something Funny
Your content doesn't always have to be about business and marketing. It's also essential to make your audience laugh. That will give you extra browny points!
81.) Share a funny meme
82.) Share a funny photo of you
83.) Share a funny photo that connects to your niche
84.) Share something funny about life that your audience can connect to.
---
If you loved this article so far, this one might pique your interest: 57 Facebook Post Ideas To Help You Increase Engagement
---
Create Videos
Video marketing is no doubt a powerful tool when you want to promote your business & brand. You can communicate your message more dynamically and directly than just text and images. It's making it easier for users to understand what you're about.
85.) Go live and talk about your story
86.) Pre-record the video with some business tips
87.) Go live with a leader in your company
88.) Interview an influencer
89.) Go live when you are traveling and show people the beauty of that place and talk about freedom
90.) Create a video about a specific topic and offer freebies (you will grow your email list and your audience's trust – who doesn't love a freebie, right?)
Freebies or Giveaways
Freebies and giveaways work great for getting more engagement and increasing your popularity. Here are some ideas you can use:
91.) Create an e-book with tips and tricks
92.) Freebie of DO's & DON'Ts in your niche
93.) Create a mini-course about a specific topic your audience is struggling with most (you don't need to solve all their problems)
94.) Giveaway – first 5 people that do a specific task get some of your products
95.) Giveaway your paid course or e-book
96.) Create a checklist
97.) Offer a challenge
98.) Give them a coupon code
99.) Create a PDF about the biggest mistakes in your niche and how to avoid them
100.) Giveaway – 15-30min coaching call
Conclusion
I hope these 100 Social Media post ideas will help and inspire you daily. Go ahead and test them out now because the sooner you do, the sooner you'll see an increase in engagement.
Want to stand out from the crowd any day of the year? Then grab these 11+ Years Of Marketing Content that will help you boost engagement & make money online!

*SPECIAL BONUS: A Social Media Content Calendar*