How To Easily Grow Facebook Group Fast
Have you ever wondered how to grow your Facebook group fast and for free? I have been asking myself this question for some time and I decided to do my research.

I'll share with you a list full of places that will help you grow your Facebook group faster. And I'll also share my #1 way that helped me the most.

And before we jump into the whole blog post, I would like to invite you to our FREE Facebook Coaching Group.

It's for all entrepreneurs and business owners who want to learn new Social Media Marketing strategies, Pinterest Marketing techniques, Email Marketing Tips, and MORE. CLICK HERE and join our fun community.
Benefits of having a Facebook group:
You can build better and more meaningful relationships with your audience
You can create an engaged community of raving fans and buyers
You'll connect with like-minded people
This way you can grow your email list fast
It will also boost your credibility and authority
It's a great way for you to sell more products
List of 30 ways to grow Facebook Group fast:
BLOG:
1.) Add the link to your Facebook group in your blogs main page
2.) Add it to your blog's sidebar
3.) Include it in your blog posts (you can see my example above)
4.) You can add it to your blog menu bar
5.) Promote it on your Thank You page or any other page on your blog
EMAIL MARKETING:
6.) Put it in your email signature (always include it there)
7.) You can make a whole email about your group and invite your subscribers
YOUTUBE:
8.) Share it in your Youtube videos as a text overlay
9.) Include it in your Youtube video description
10.) Put it in your Youtube About section
11.) Mention it as a CTA (call to action) at the end of your videos
FACEBOOK:
12.) Make a post about your group on your Facebook page
13.) Share it on your Facebook profile
14.) You can share it in other Facebook groups but make sure they allow it (check group rules)
15.) Connect it to your Facebook page
16.) Include it in the button on your Facebook page
17.) Promote it in Facebook stories (page & profile stories)
18.) Make a Facebook live video and tell your audience about your Facebook group
19.) Pay for Facebook ads and promote your group
20.) Connect with people on messenger and tell them about your group (don't spam!)
PINTEREST:
21.) Create a pin image with an invitation to your Facebook group
22.) Include the link in your Pinterest board description
---
MY #1 WAY OF GROWING MY GROUP: Use the Pinterest strategies that I use to grow a Facebook group. Most of my audience comes from Pinterest, so get my FREE Pinterest Marketing course and learn how you can get massive traffic.
---
TWITTER:
23.) Tweet about your group (include a link & graphics of your group)
24.) Pin that tweet to your profile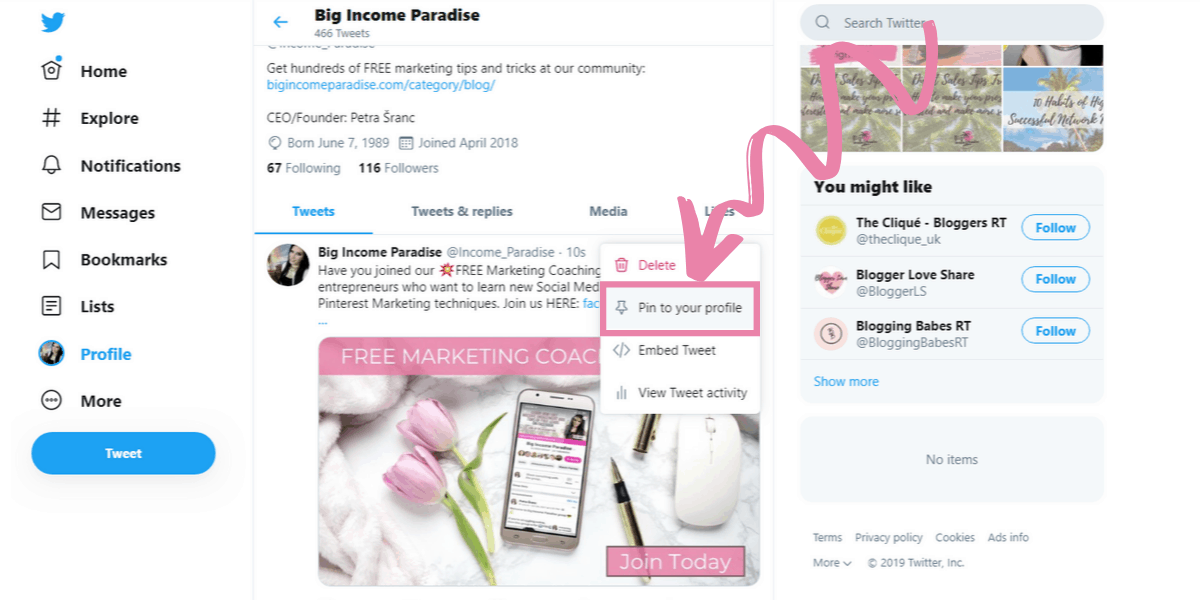 INSTAGRAM:
25.) Include the link in BIO (you can use LinkTree to have multiple links included)
26.) Promote your Facebook group on Instagram posts
27.) Mention it in your Instagram stories
LINKEDIN:
28.) Share it on LinkedIn
PODCAST:
29.) Mention your Facebook group in your podcast
FREEBIES:
30.) Share your Facebook group in all your Freebies
Here's how to keep your group engaged:
Ask questions (you will get engagement & get to know your audience)
Use interesting images (your posts will pop out more)
Respond and interact with your audience
Post at the optimal time (check your group insights)
Post frequently – up to 3 times/day (you will reach more people)
Don't forget to use emojis to make your posts interesting
Share behind-the-scenes photos
Talk about your story, what you learned
There are more ways to grow your engagement in a Facebook group, and I put together 120 Killer Social Media Content Ideas Your Audience Will Love. Check it out and bookmark it so you can return to it faster.

And if you need extra help with creating scroll-stopping Social Media content, then grab your copy of The Ultimate Social Media Content Bundle.

Inside you'll find a Yearly Social Media Content Calendar, storytelling strategy, 1,600+ copy & paste posts, 796 Social Media graphic templates, content ideas, and so much more. The bundle will help you save a ton of time, and also increase engagement, followers, and sales.
---
Did you get some value from this blog post about The Ultimate List Of 30 Ways To Grow Facebook Group Fast? I hope you did because every week I put my whole heart into giving you the most amazing tips and strategies that help you succeed in your business.

If You Love Sharing Valuable Info Then Click Below And Share This On Your Favorite Social Media 🙂 ⬇