Hmmm, Pinterest for Business? Really?

Yes, it's not a secret anymore that Pinterest will bring you the most traffic to your blog, website, or any other place.

And not only that, your sales will grow significantly if you do it right.

Why do most bloggers, entrepreneurs, and marketers see an increase in sales? Well, it's because over 80% of Pinterest users are BUYERS!

You won't find that many on Facebook or Instagram.

That's why it's so important to use Pinterest for business. And there is another great news you should know – you can get MASSIVE Traffic for FREE!

We're talking about thousands of people – I tripled my traffic in just 25 Days – you can read more about it by clicking here.

Before we move on, I would like to invite you to our FREE Marketing Coaching Group, where you will learn more about Social Media Marketing, Pinterest Marketing, different business hacks, and so much more!
---
This post includes affiliate links to products I love and recommend, meaning I may receive a small commission at no extra cost to you. I will use the earnings to maintain my blog and business so that I can deliver more value and knowledge to you.
---
1.) Why you should use Pinterest for business:
Reason #1: Most Pinterest users are buyers:
As I said before, the first reason is that over 80% of Pinterest users are buyers. You can reach out to a lot of people without struggling and wasting a ton of your time in front of your computer.
Reason #2: You won't waste too much time reaching more people:
To be honest with you, I spent at least 4 hours more in front of a computer when I was using Facebook. There is nothing wrong with Facebook (I still use it), but if you want to reach out to more people, you will have to invest in ads. I can say that I'm not a Social Media slave anymore just because I started using Pinterest.
Reason #3: Pinterest ads are way cheaper and more powerful:
Another reason you should use Pinterest for business is that you can use its ads. You will invest way less money than with Facebook ads. The only problem that I see here is that Pinterest ads are not global.
Unfortunately, I'm from a country that's not accepted for ads. These are the countries that can use Pinterest ads: United States, Canada, Australia, Austria, Belgium, China, Denmark, Finland, France, Germany, Gibraltar, Hong Kong, India, Ireland, Israel, Italy, Japan, Republic of Korea, Luxembourg, Netherlands, New Zealand, Norway, Poland, Portugal, Romania, Singapore, Spain, Sweden, Switzerland, United Kingdom, Vietnam.
I know some of you are skeptical because I didn't use Pinterest ads, and I'm saying they are cheaper than any other ads. How do I know that?

Well, I learned that from the princess of Pinterest – Kat Sullivan (Marketing Solved). I actually learned most of what I know about social media marketing and online business from her courses. She showed us an example of her Pinterest ads and Facebook ads, and I saw the numbers. There was a big difference!

Of course, just like everything else, you have to learn how to use Pinterest ads the right way. Because I can't teach you, I'll suggest the course from Kat Sullivan called PinFunnels.
2.) How to set up a Pinterest account for your business:
STEP #1:
You have two options here. If you already have a Pinterest personal profile, you can simply convert it to a business account.
OPTION 1: Convert a personal account to a business account:
Log in to your Pinterest profile account
Fill out your business name and website, then select a business type
Click Create account
OPTION 2: Create a new business account:
If you have a personal account but don't want to convert it, go to pinterest.com/logout to log out
Fill out your email, password, and business name, then select a business type
Click Create account
Click here if you want to check out the article from Pinterest. I included an example below of my business account.
STEP #2:
Complete your Pinterest for a business account:
First, upload your headshot photo (smile on the photo)
Choose your username (it should be the name of your brand or just your name if you are branding yourself) – Include some keywords (for example, Pinterest for Business Tips, Ideas for Weight Loss…)
Complete your bio (include keywords – SEO optimized so that your business account will get ranked higher up and you will get in front of your targeted audience)
Also, you can add your location
And don't forget to add your website (in the next steps, I will show you how to verify your website/blog)
STEP #3:
How to verify your website on Pinterest:
Log in to Pinterest from a web browser and click the arrow in your top right corner to open your menu.
Select Settings
Click "Claim" and enter your website URL, then click Claim. 
Select "Add HTML tag"
Then copy the tag and click Next
Go to the index.html file of your website and add the tag to the <head> section before the <body> section
Then go back to Pinterest and click Submit
You can also check out these steps in this Pinterest blog post.
STEP #4:
Your next step is to set up Pinterest rich pins:
Rich Pins provide more context about an idea because they show extra information directly on a Pin. There are four types of Rich Pins: app, product, recipe, and article.

Source: From Pinterest help site – Click Here to read more
Steps to set up Rich Pins:
You will need to add metadata to the content on your website.
Then you will have to verify your Rich Pins before you go to Pinterest
It's best if you read all the steps directly from Pinterest. They will guide you step by step. Check out their article here.
Then go to Rich Pins Validator:
If you read all the steps from the Pinterest help site, then you know you have to go to Rich Pins Validator. There you will see which steps to take next. This is how the site will look like: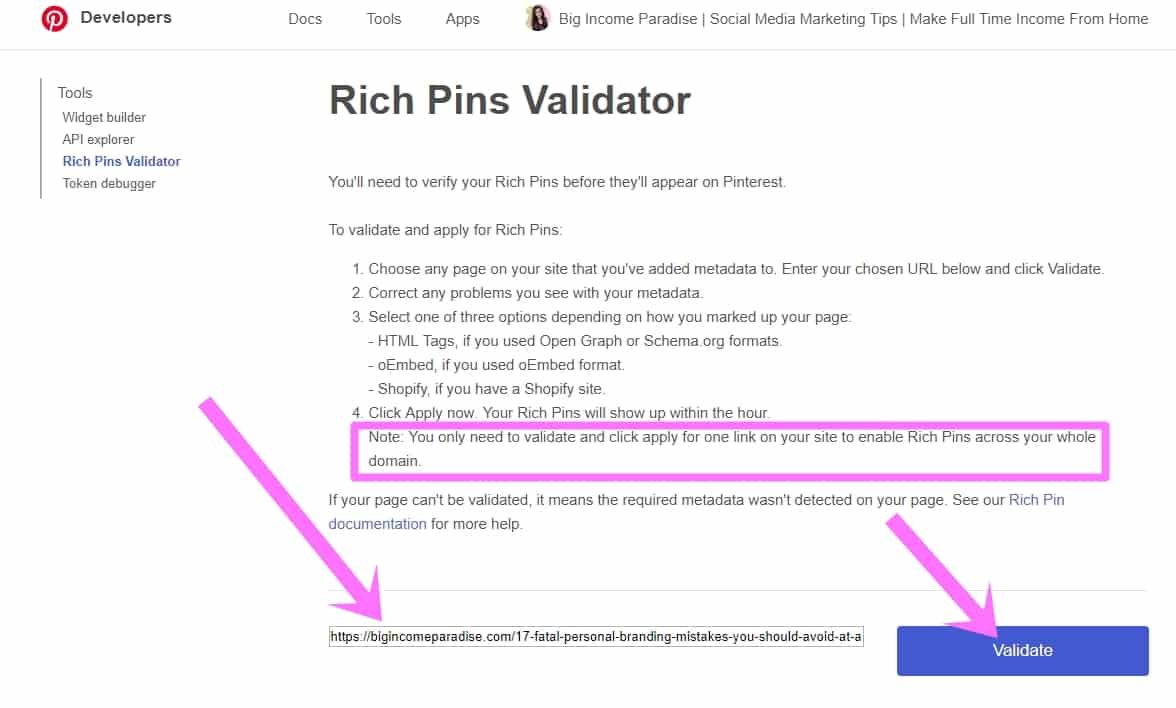 You only need to do this once from any link on your website. Then you will enable Rich Pins for your whole domain.
I know all of this sounds like too much work and maybe even scary. But it's not, you just need to follow the steps that Pinterest provides on their help page.
STEP #5:
Set up your Pinterest boards and pins – watch the video below where I share lots of tips and tricks that you have to use if you want to be successful on Pinterest:
I also recommend you to read my other blog post: Best Pinterest Marketing Strategies To Explode Your Traffic
3.) How to automate your Pinterest with their scheduler:
You can schedule your static or video pins inside Pinterest. Click 'Create' in the top left corner, then choose 'Create Pin'.
There you can upload your graphics or videos, fill out the title, description, alt text, add a link, and choose the most relevant board.

At the bottom, you will see two options:
Publish immediately
Publish at a later date
Click 'Publish at a later date' and choose the date and time when you want your pin to be published.
IMPORTANT: If you want to schedule Idea Pins, you can only do that on your phone for now.
4.) Create Pins for Pinterest:
Pinterest is a visual search engine, which means you have to create beautiful and attractive pins. The pin images have to be vertical (see the example photo below).
The ratio should be 2:3 – for example, 1000 x 1500 pixels. Here are other 2:3 ratio sizes:
| | | | | |
| --- | --- | --- | --- | --- |
| Width | 600 px | 1000 px | 1200 px | 2000 px |
| Height | 900 px | 1500 px | 1800 px | 3000 px |
I mostly use the size 1000 x 1500 px for static pins, and 1080 x 1920 px for idea pins.
Before you start making pins, you should know how they will look like. I'm talking about colors and fonts. Your brand is not just you, your products, or your services. It's also the looks of your visuals.

Besides the high-quality images, you should always include the same colors and fonts. If you want to brand yourself the right way, then grab your Free Pinterest Branding Worksheet here.
5.) How to grow your Pinterest account:
The number of followers is not that important but you should still grow it. The more followers you have, the more people see your pins. So here is what you should do:
At the end of each blog post, ask people to follow you on Pinterest (I'll do it right here – Click Here and please follow me on Pinterest 😉 )
When sending an email to your audience, including the call to action to follow you on Pinterest
Add a pin widget to your blog
Add a Pinterest share button to your blog
When making a video, you can include a call to action at the end
6.) Know your targeted audience:
You have to know who your targeted audience is. Not everyone is interested in what you have, so if you don't want to waste your time, you have to figure out who are they, where do they hang out (online or offline), and more.

Here are the top 7 questions every small business owner should ask themselves to get to know their target audience:
You can create detailed customer personas and tailor your marketing efforts to your target audience by answering these questions. 
This can help you better connect with your potential customers, create more compelling content, and ultimately grow your business.
7.) Check your analytics:
And here we go with the boring part – at least it used to be boring to me. And that's why I made the biggest mistake – NOT CHECKING THE ANALYTICS.

That's why I wasted a ton of time doing stuff that didn't work at all. I don't want you to repeat my mistake. If you want to do Pinterest for business, then analyzing how your pins are doing is a must!
You can find the analytics in the top left corner of your Pinterest account. Click on overview and check all the stats. But I suggest you focus on your blog analytics more because Pinterest analytics are not that accurate.

Here is an example of my analytics (you can see a big drop because I wasn't posting manually)
---
PINTEREST COURSES & E-BOOKS I RECOMMEND:
The Ultimate Pin Profits – this is my e-book that will teach you how to get thousands of leads and sales from Pinterest. We also have a VIP group where you can ask questions or get feedback. It's like having your personal coach, but it doesn't cost an arm and a leg.
Pinterest Ninja – this is one of my favorite courses because the owner – Megan – keeps the videos up to date. You'll learn all the ins and outs of Pinterest marketing.
PinFunnels – you can read my whole review on this course here. It's more than just a Pinterest course because it teaches you about funnels, creating lead magnets, nurturing your email list, selling, and so much more.
Pinterest Traffic Avalanch – another amazing course that teaches you more than just Pinterest marketing. It has a lot of information that is easy to understand and implement. I didn't yet write a review of this course, but I'll do it soon.
---
CONCLUSION:
You can see why Pinterest for business is so amazing. I find it way easier to reach out to more people, plus my email list is growing faster than ever before. I'm sure you'll see a better visibility too.

When you do Pinterest marketing the right way, you will reap the rewards faster and for many years. Every blogger and small business owner who learned to market on Pinterest, is saying that's their main source of traffic and income.

I recommend you to get my Ultimate Pin Profits e-book, then take action, and implement the strategies. And don't forget to reach out to me and tell me your results.
---
Do you have any Pinterest marketing questions? Leave them in comments below and I'll help you out.