Poll questions are perfect for increasing Social Media engagement and gathering useful information about your followers. It's a powerful way to connect with them.

But you're probably tired of thinking about what questions to ask. Don't worry, you came to the right place.
Here you will find 67 of the best poll questions that will help you boost engagement without spending hours on Social Media. You will get your audience's attention fast.
You might be thinking: "Why will this save me time?" – simply because you have my blessing to copy the polls below.
---
---
What are good poll questions?
Here's an overview of all of the best poll questions you can ask on Social Media:
Funny Poll Questions
"Would You Rather" Questions
"Your Favorite" Questions
"This Or That" Poll Questions
Random Poll Questions
"Get To Know Me" Poll Questions
"Do You Want To" Poll Questions
Polls On Instagram
Polls For Facebook
Poll Quizzes
These polls will help you get more engagement faster. Simply because it's easy for your followers to choose the answer and click on it.

All you have to do now is take one of the polls and post them on your Social Media. And yes, these can be used on Facebook, Instagram, or anywhere else.
But before we start, I would love to invite you to our amazing Facebook community where you will learn more about Social Media, Pinterest, Email Marketing, and other great business tips.
---
This post includes affiliate links to products I really love and recommend, which means I may receive a small commission, at no extra cost to you. I will use the earnings to maintain my blog and business.
---
BEST SOCIAL MEDIA POLL QUESTIONS
1.) Funny Poll Questions:
Why not use poll questions for fun? Everyone loves to laugh, that's why asking funny questions always works great. Your followers will engage way more on these kinds of polls. Use them whenever you don't know what to post or when you see your engagement dropped.
1.) What sport would be the funniest to watch if the players would be drunk?
A) Soccer B) Basketball C) Rugby D) Baseball

2.) If animals could talk, which would be the rudest? Why?
A) Snake B) Bunny C) Bear D) Fox

3.) Have you ever answered a poll question with a random answer?
A) Yes B) No C) Icecream

4.) How focused are you?
A) Very B) Could be better C) Look a butterfly

5.) Would you rather sneeze for an hour or have hiccups?
A) Sneeze B) Hiccups

6.) Who do you wish would run for President? Why?
A) Kevin Hart B) Snoop Dogg C) The Rock

7.) If you were a dog – which dog would you be?
A) Neapolitan Mastiff B) Bergamasco C) Chinese Crested D) Duchshund
2.) "Would You Rather" Questions:
8.) Would you rather have a:
A) Golden voice B) Silver tongue

9.) Would you rather get:
A) $1M right now B) $10,000/month

10.) Would you rather see:
A) Your future B) Someone else's

11.) Would you rather:
A) Be free B) Be safe

12.) Would you rather:
A) Read minds B) Fly C) Be invisible

13.) Would you rather speak:
A) 5 languages B) To animals
---
YOU MIGHT BE INTERESTED IN 20 Killer Facebook Poll Questions And Ideas
---
3.) "Your Favorite" Questions:
14.) What's your favorite travel destination?
A) Tropical place B) Mountains C) Lake

15.) What's your favorite holiday?
A) 4th of July B) Thanksgiving C) Christmas

16.) What's your favorite ice cream flavor?
A) Vanilla B) Chocolate C) Lemon D) Strawberry

17.) What's your favorite Social Media platform?
A) Facebook B) Instagram C) Twitter
Here's a great example I created in our Facebook group. Not only did my engagement increased, but I also saw what my audience prefers.

That's the power of Social Media poll questions. I encourage you to use them once per week.
4.) "This Or That" Poll Questions:
18.) What do you love more?
A) Coffee B) Tea

19.) Where would you love to live?
A) City B) Countryside

20.) Are you a…
A) Dog person B) Cat person

21.) What do you prefer to watch?
A) YouTube B) Netflix

22.) What do you love more?
A) Cardio B) Weights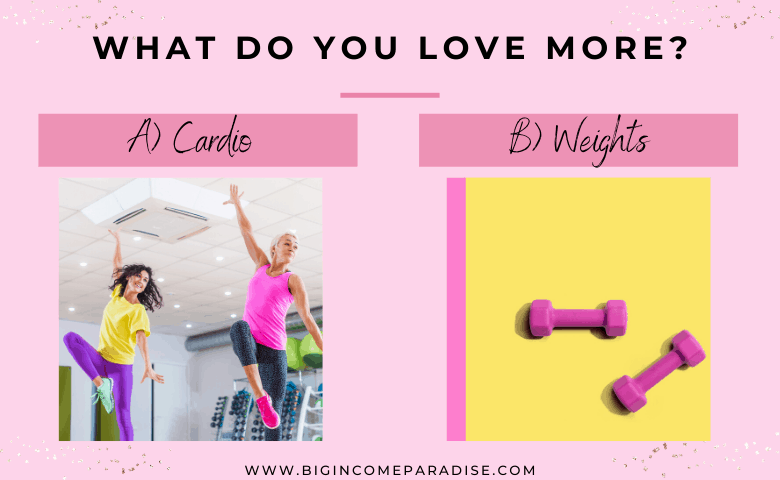 5.) Random Poll Questions:
23.) What's your must-have summer makeup item?
A) Bronzer B) Mascara C) BB cream

24.) What will you do this weekend?
A) Rest B) Work C) I don't know

25.) If you could have one – who would you choose?
A) Maid B) Personal Chef C) Nanny

26.) How do you like your coffee?
A) With milk B) With sugar C) Black

27.) How do you sleep?
A) Stomach B) Back C) Side

28.) What do you like doing the most?
A) Camping B) Dancing C) Swimming D) Shopping

29.) Which season do you love most? Why?
A) Spring B) Summer C) Fall D) Winter
30.) Which color do you like most?
A) Pink B) Red C) Blue D) Green

31.) What type of music do you usually listen to?
A) Pop B) Salsa C) Rap D) Rock

32.) Which food is your least favorite?
A) Broccoli B) Tofu C) Olives D) Peas

33.) What's your "relax" drink?
A) Beer B) Wine C) Whisky D) Water
6.) "Get To Know Me" Poll Questions:
34.) Which am I more scared of?
A) Spiders B) Snakes C) Wolfs

35.) How old am I?
A) Too old 😉 B) 37 C) 28 D) 31

36.) What's my favorite type of book?
A) Personal development B) Romance C) Adventure

37.) Which season do I prefer?
A) Summer B) All of them C) Winter D) Spring

38.) What's my favorite movie?
A) Bridesmaids B) P.s. I love you C) John Wick

39.) Where do I love to go more?
A) Beach B) Mountains C) Lake

40.) Am I a:
A) Spender B) Saver

41.) Which Social Media platform do I love most?
A) Facebook B) Instagram C) Twitter
7.) "Do You Want To" Poll Questions:
42.) Do you want to learn how to write and launch a profitable eBook?
A) YES! B) No
Here is another example of Social Media poll questions that I used in the past.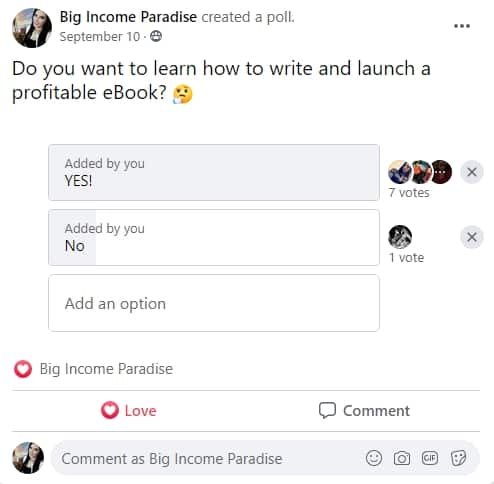 43.) Do you want to lose weight?
A) I want to lose weight B) No, I'm good

44.) Do you want to have your own business?
A) Yes please! B) No

45.) Do you want to be famous?
A) Yes B) No C) I'm already famous

46.) Do you want to use Facebook or Pinterest for business?
A) Facebook B) Pinterest C) Both of course

47.) Do you want to learn more about mindset & personal development?
A) YES B) No thanks
As you see below, you can also ask them to tell you more in the comment section. That will create even more engagement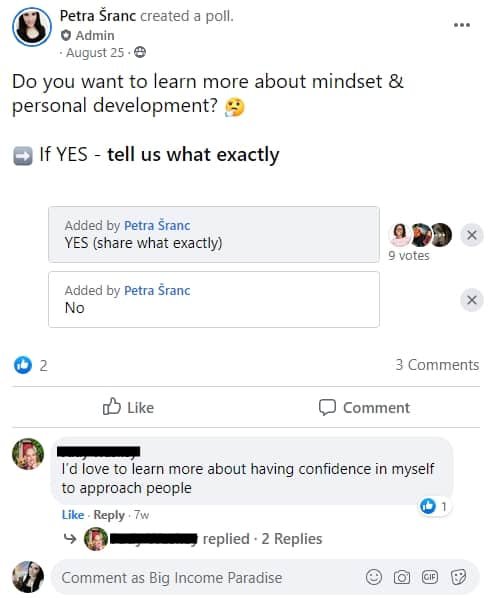 8.) Polls On Instagram:
If you have been using Instagram stories, but no one is engaging on them, try creating polls. Make it easy for your followers. Know they are busy and usually in a hurry. That's why being smart and creating Instagram poll questions will make a huge difference. 
Below are some polls for Instagram that will give you the interaction you want. You can change and make them more personal. And don't forget – you will have to create compelling templates to grab their attention.
48.) Theme: Pets. Are you a…
A) Dog lover B) Cat lover

49.) Do you love engaging on poll questions?
A) Yes! B) No 😛

50.) (Show a photo of your meal and ask) Which goes better with this food?
A) Coffee B) Wine

51.) (Shor a photo of two different t-shirts and ask) Should I wear:
A) Pink B) Red

52.) Which course would help you more?
A) Facebook Marketing B) Instagram Marketing

53.) Are you getting enough value from me?
A) YES! B) No
9.) Polls For Facebook:
It would help if you utilized the polls on Facebook, especially when you see your engagement dropping. Make things easier for your audience. Everybody loves to interact if they only need to click one option.
Give these Facebook poll questions a chance and test them out.
54.) What deal would you prefer to get?
A) 15% OFF B) Free shipping

55.) Who would you rather do business with:
A) GaryVee B) Jeff Bezos

56.) Do you usually LIKE or LOVE the posts?
A) Like B) Love

57.) Do you enjoy taking poll questions?
A) Love them! B) Sometimes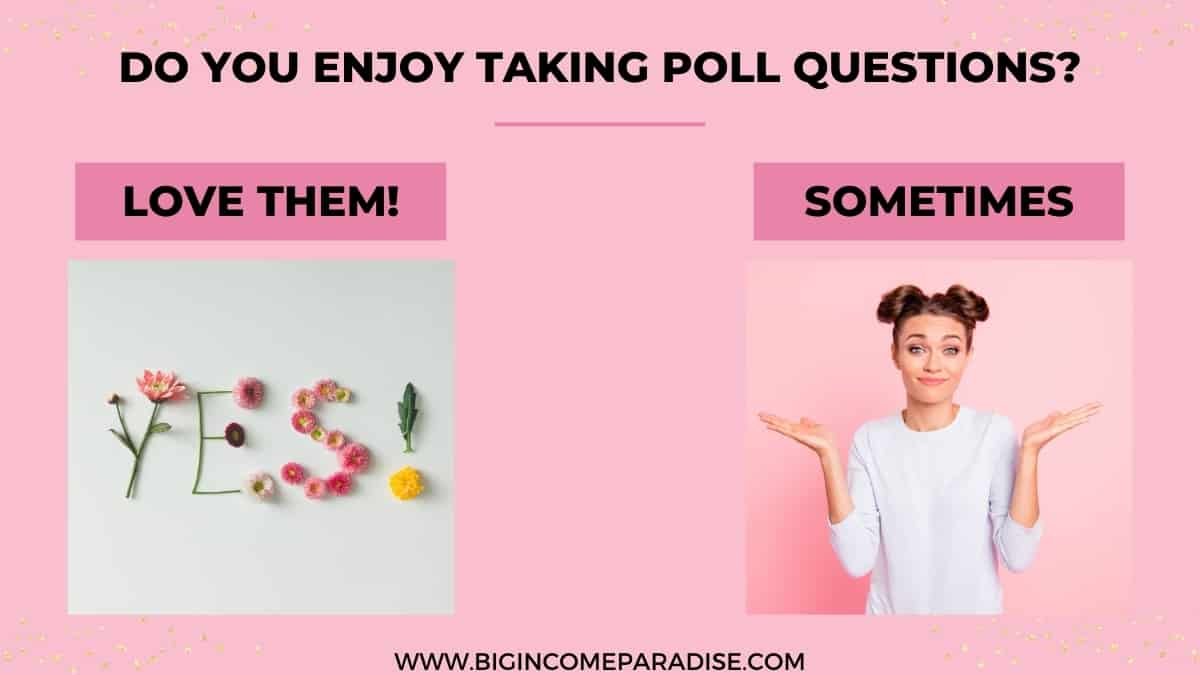 58.) Do you prefer long or short posts?
A) Long B) Short

59.) Which do you do more often and why?
A) Eat at home B) Eat out
10.) Poll Quizzes:
You can create short poll quizzes to challenge your audience. They can be fun and educational. Check out the examples below, choose your favorite, and post them on your Social Media today.
60.) What's the max amount of posts you should post on Facebook per day? I'll share the right answer tomorrow.
A) 1 B) 3 C) 10+

61.) Which platform is NOT a Social Media platform?
A) Facebook B) Twitter C) Pinterest

62.) Which gender uses Pinterest more?
A) Men B) Women

63.) Is it necessary to brand yourself with specific colors? Why or why not?
A) Yes, it's necessary B) No, it's not

64.) Is it necessary to post on Social Media every day?
A) YES! B) No

65.) Is Email Marketing essential for online businesses?
A) It sure is! B) No, waste of time

66.) Do people need to trust you before they buy from you?
A) Oh, for sure! B) Nop!

67.) Can memes help you boost Social Media engagement?
A) YES!!! B) No
Social Media Engagement Tips:
Before you start using the polls, you should read these helpful tips.
Social Media engagement is important because it shows your audience is interested in what you have to say. That's how you build great relationships and trust.
Also, engagement equals traffic. Every business needs it to stay alive. Here are some of the best tips that helped me and thousands of other entrepreneurs.
1.) Mix Up Your Posts:
What do I mean by that? Well, you should post text, images, videos, freebies, blog posts, poll questions, and so on. Some of your followers love to read while others prefer to watch videos.
Make it appealing to them. Try to talk about things they are interested in. If you don't know what that is, then read the next point below – it is extremely important!
Here are some of my helpful blog posts with a ton of Social Media post ideas. You won't struggle with content anymore!
2.) Know Your Audience:
This is crucial for content creation and everything else. You need to know what your audience is struggling with so that you can help them out. This will help you build trust which will lead to more sales in the long run.

There are two things that helped me. First, I created a customer avatar. I suggest you do the same. Think about who would be your PERFECT customer.
Are they male, female, or both?
What's their age?
Where do they live?
Where do they work?
What are their pain points? How do they feel?
What do they want to achieve?
How will they feel when they achieve their goals?
You should have the answers to all the questions above. Also, create 1-3 customer avatars. If you create more, it will only confuse you.

Now let's talk about your next step. You can use Social Media poll questions to ask them about their struggles. Or you could also ask them about their goals. The sky is the limit.
3.) Make Interesting Content:
No one loves to read boring posts. Your job is to spice it up and be different than your competitors. It's ok to make a funny post or share a more serious story.
However, there are some things you should avoid. Never spread negativity! That means you shouldn't talk badly about other people or companies. If you want to rant about something don't mention any names and end it on a positive note.
Don't forget to talk about your struggles and how you overcome them. The relatable posts are very powerful. You can also create interesting poll questions. Just think outside the box.
---
---
4.) Post Consistently:
How often should you post on Social Media? Well, at least once per day. Why? Because I'm sure you don't want your audience to forget about you. And yes, that can happen faster than you think.
That's why you should create a Social Media content plan. It will help you stay consistent and prepared. Winging it is not a good Social Media strategy. So take some time and plan your posts ahead.
You might be interested in my blog post: How To Easily Create a Yearly Social Media Content Calendar
5.) Create Viral Content Graphics:
You can also create poll questions in the form of a graphic. Interesting images will spike up curiosity in your audience. So why not explore that option. 
You can easily create poll question images in Canva. But if you're not good with graphics, that's ok. I found some awesome viral content templates that will help you out. They made a significant change in my business! That's why I'm recommending them to you.
The templates will boost your engagement and help you reach more ideal clients. You will need a free Canva account to change them to your liking. And yes, you can create poll questions too! Check these 100+ Viral Content Templates for yourself. They will blow you away!
Conclusion For Poll Questions:
Use the poll questions above to skyrocket your engagement. Copy and test them now. You can also change them and make them more personal. Or take them as ideas and create your own poll questions.

The possibilities are endless. Start mixing up your content with these questions and your engagement will definitely grow. Not only that – I'm sure you will attract more followers because people love to interact with fun poll questions.

Now over to you. Tell me, do you enjoy answering the poll questions? Share in the comments below!
Before you go, grab over 3,700+ pieces of Social Media content to help you boost engagement & make money online [Only $10]!