As a business owner, you want to make your Social Media posts more interactive. That's going to help you build a deeper connection with your current audience, and you'll also gain new followers.
The best way to do this is by sharing poll questions or telling stories. But in this article, we're going to cover more than just these two options.
I'll share some expert content tips and tricks that I have been using in my business. So keep reading to learn which interactive Social Media posts will work best for your business.
How to make Social Media posts interactive?
Once you understand what makes compelling content, it becomes easier to create exciting and interactive Social Media posts.
You're probably familiar with the power of asking questions, but imagine how much more engagement they can generate when combined with a colorful image.
Your followers are zooming through their newsfeed quickly, but if they see a compelling picture, they'll stop scrolling. That's why you should always invest more time and effort into creating graphics that could go viral.
Another essential part of creating interactive Social Media posts is asking questions your audience can relate to. Remember that every person on this planet loves to talk about themselves.
And if you want to make it easier for your followers, then create a poll question. They can quickly choose one of the options you give them.
For the last 2+ years of testing different content strategies, polls were particularly beneficial in my business. So try them out and see how your audience will react to them.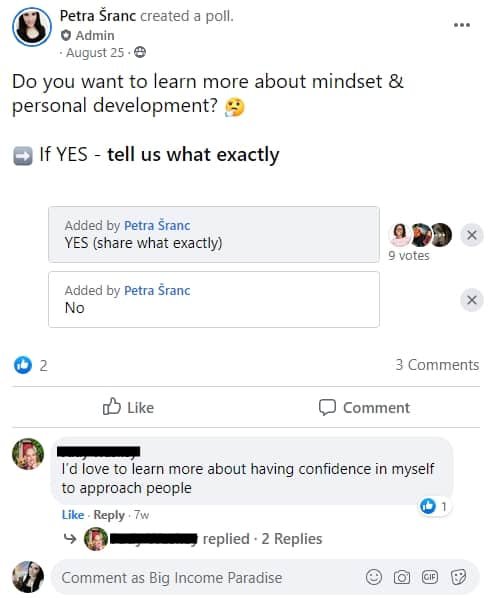 And the last part of making your posts interactive and engaging is to share knowledge through your stories. If you want your followers to trust you, they have to get to know you first.
That's why you should talk about your experiences.
What have you been going through?
What challenges did you face?
How did that make you feel?
What did you do to change your situation?
And how did it feel when you achieved your goal?
You will get the best results if you make your followers feel the pain of your obstacle and the happiness of your achievement. This will show them you are a go-to expert and can guide them to their desires.
Mix your story post with a viral graphic template, and you'll be amazed at the impact you will make!
Free Interactive Social Media Posts
You might be wondering what type of Social Media content converts best? I'll be sharing what I have noticed in the past 2+ years of analyzing thousands of posts.
Let's start with the most interactive Social Media posts:
Poll Questions
Why do polls get the most interaction? Because they are fun and easy to respond to. Your audience can read your question and click on one of the options you give them. So easy & fast!
Here are some poll ideas you can use in your business:
What are you grateful for today? A) Family B) Friends C) Everything
Do you love your life? A) Yes B) No
What do you want to learn more about? A) Social Media content B) Email marketing C) Pinterest marketing
We're living in a world where everyone is busy. And poll questions take the least amount of time from your followers. That's why you will see more engagement on these kinds of posts.
---
Don't forget to grab my FREE 100 Social Media Post Ideas For Engagement.
---
Ask Questions to Create Interactive Social Media Posts
People love talking about themselves or sharing their opinions. So when you ask your audience a question they are interested in, they will reply.
There are multiple great benefits from asking questions in your posts:
boosting engagement,
getting to know your audience,
finding out what your audience cares about,
learning how to serve them better.
Asking questions is a great strategy you can use on all types of Social Media posts. The best part is that you'll see a positive reaction from your followers.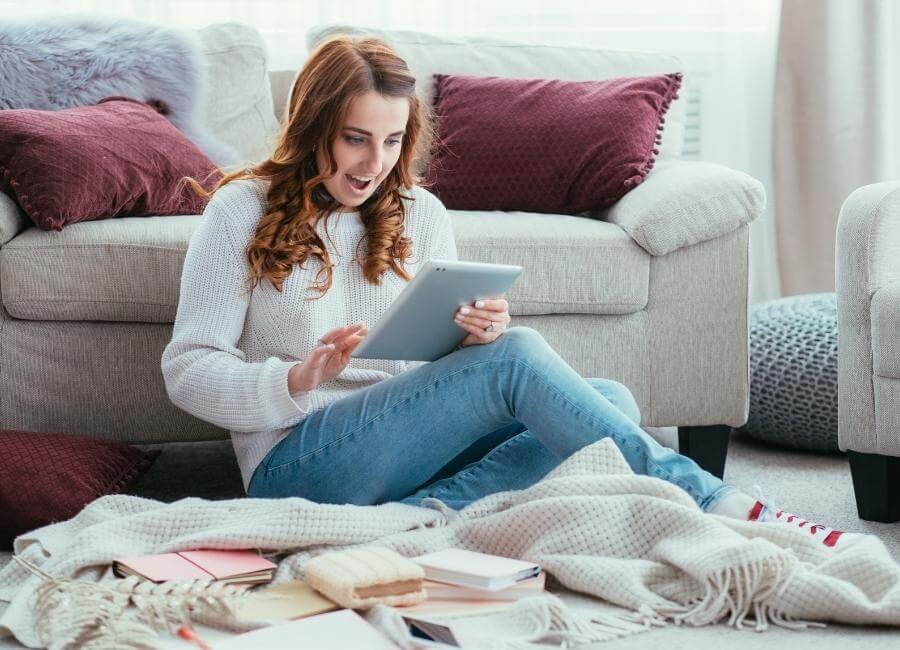 Here are some "go-to" questions you can use today:
What has been going in your life/business? Good or bad – get it off your chest.
What's your favorite holiday and why?
What are your core values?
For more great Social Media questions, go to: 333 Killer Social Media Questions To Skyrocket Your Engagement.
Share Inspirational Quotes
Why are quotes so powerful? In this day and age, there's a lot of negativity on Social Media. So it feels like a breath of fresh air to read something positive and motivational. That's why these are great interactive Social Media posts for your business.
If you want to connect with your followers better, share quotes that reflect who you are and what your business is about.
But how do you pick the best quotes to include in your posts? Use my 3-step formula:
Find out what your followers care about
Write down your values & mission statement
Then find quotes that reflect the above 2 points
Here are some of my other helpful articles that are full of great quote ideas:
Write Story Posts
Have you ever heard the saying: "Facts tell, but stories sell."? I'm a firm believer in this because stories stick with you longer than plain data.
The same goes for your followers – they will remember the content that moved them. That's why storytelling is a powerful strategy you should use in your interactive Social Media posts.
Here are some excellent story post ideas you can create:
Share a case study of a product you're using and why you love it
Show people how someone used your product or service to reach their goals
Share the story behind why you created your business and what makes you unique.
Are you searching for more Social Media post ideas? You can get 254 of them for free here:
Create Value Posts
Have you been making valuable Social Media posts, but you're feeling invisible because no one is engaging on them?
That's because you're only sharing facts and knowledge. This was my biggest mistake of all and let me explain why.
Valuable content positioned me as an expert – but my audience didn't connect with me on an emotional level. They didn't know me, so almost no one wanted to buy from me when I started promoting my products. Why?
Simply because they didn't trust me, so I changed my approach. Now I always share my story and provide valuable tips throughout the post.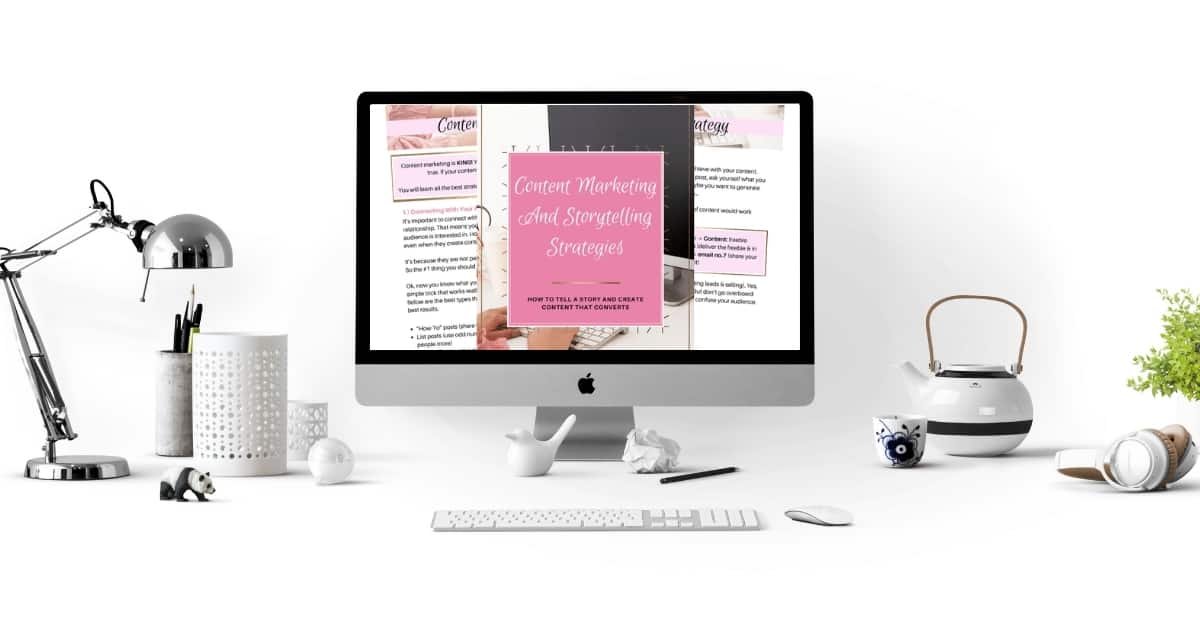 Next time you're sharing a strategy or a hack, make sure you share an emotional story behind it.

Here are some interactive Social Media posts you can use for your business:
Achieving a goal: how did you feel when you struggled, what did you do to achieve that goal?
Biggest mistakes: what were your biggest mistakes, how did you feel, and how did you correct your errors?
Using a tool: how stressed you were before you started using the tool, what happened after you started using it?
Make Funny Social Media Posts
Everyone loves to laugh, and the same goes for your followers. So why not make a few jokes in your Social Media posts?
You don't need to be a professional comedian because most of your followers will enjoy the fact that you're trying. If you want some help with it, then try out these Social Media post ideas:
find funny memes that connect to your niche (give credit to the author)
share funny quotes about life
create your funny meme with this free meme generator
Be Vulnerable
Don't you love it when people share their day-to-day experiences on Social Media? They get real and reveal their "weaknesses." But why is it so important to be vulnerable online?
Vulnerability is a powerful tool for connection since it shows that you and your audience aren't so different. They'll feel more drawn to you, and that's what you want.
So don't be too afraid to share your flaws and mistakes you made in the past. Here are some ideas you can talk about:
How do you feel when you do not see great results? 
How do you cope with Social Media?
What's one thing holding you back right now?
Before you start creating your content, you need to know that there are also some Social Media posts you should NEVER publish. It can damage the image of your business & brand. So please stick to the ones mentioned above and keep it positive.
Now let's move on to some of the best resources that will help you:
Helpful Social Media resources for your business
Social Media Content Calendar
Know you're not alone if you're feeling overwhelmed by all the content you have to create. Back in 2019, I had the same experience. I cried for 30 minutes because of all the stress I was feeling.
I have been in the online business for over 8+ years, and I have covered most topics. My biggest obstacle was not knowing what to talk about in my posts anymore. So if you're struggling with the same thing, you'll be thrilled with the solution I'm about to show you.
It's called a Social Media content calendar. I've created it for overwhelmed entrepreneurs who want to have all their content planned out for a whole year ahead.
Yes, it has 12-months of content planned out for you! And that's not all. You will also receive over 600+ extra post ideas, 796 Social Media graphic templates, a list of holidays you can celebrate with your audience, and amazing bonuses.
This content calendar will eliminate your stress and boost your Social Media engagement. Get your copy here.
If you're not sure this is a solution for you, read my article with 11 killer advantages of a Social Media content calendar.
Canva
You probably know by now that Canva is a fantastic graphic design tool that will help you create beautiful visuals for your interactive Social Media posts.
Get the free or PRO version of Canva and start creating your content. I do recommend getting the PRO because it gives you way more options and professional images.
With it, you can make interactive Social Media posts easily. Try different images, shapes, and color pallets. See what your audience responds to best. Then repeat the process. Simple, isn't it?
---
You can also read my article about 25 Ultimate Social Media Content Tools You Need For Business.
---
The Viral Content Templates
When I first saw these graphic templates, I fell in love! They are professionally done, and they do work. However, I don't always use them because I have a ton of other great templates from the Ivory Mix membership site.
If you're a very busy entrepreneur, I recommend you get the Viral content templates. These templates help me save more than 20+ hours each month, so I'm sure you'll love it too. Who doesn't love to have more free time for their loved ones, right?

With these Viral content templates, you'll create interactive Social Media posts in just minutes!
Ivory Mix Graphic Templates
Being a part of the Ivory Mix membership has been nothing but a blessing! Inside, you get everything you need for your business growth.

You will be able to create interactive Social Media posts with ease! As VIP member, you will get:
30+ Canva templates for Social Media,
100+ new professional photos,
30+ quote graphics,
30 Social captions,
5000+ diverse stock photos,
Monthly workshops,
The Audience Growth Academy courses (price: $915 – but free for the VIP members),
And a ton of bonuses & rewards.
Is it worth it? Yes, I think so because it will save you a lot of time with content creation, and you'll also be able to learn expert business strategies.
You're aware that understanding how to build your online business is critical if you want to succeed. And that's what you'll get inside the Ivory Mix VIP membership.
---
There are 40+ Business & Social Media Tools That Will Give You An Unfair Advantage.
---
Trello
Trello is a simple yet powerful organizing tool that you'll love for your business. You can plan everything inside – from your Social Media posts to blog articles, emails, or anything else.
There is a free and paid version, so you decide which one you want. I use the free version because it offers everything I need. So go ahead, test it out, and get your business organized.
Jarvis
This is my favorite tool of all! If you're someone who struggles with writing, then you need Jarvis! It's an AI (artificial intelligence) tool that will help you write anything.
Open Jarvis and let him help you create:
Interactive Social Media posts,
Business emails,
Copy for landing pages,
Blog articles,
Sales pages,
YouTube scripts,
And so much more!
But before you get Jarvis, I have to tell you that it's just a tool. So it will make mistakes; you will have to do fact-checking and fix up the sentences that don't make sense.
They've improved it a lot, but it can't replace you as a writer. Jarvis saves me a lot of time, especially when writing blog posts. So yes, I do recommend it to all entrepreneurs because we are content creators.
You can see more details about Jarvis here.
Also Asked
You will love this free tool! Alsoasked.com is unique because it shows you what people are asking in your industry.
You have to write keywords related to your niche in the search box, choose the correct language, region, and click on the blue button.
Let me show you the tool in action. We'll research the topic "interactive Social Media posts":
As you can see, it shows multiple different questions that REAL people were searching for. So what does that mean?
It will give you the exact questions that most of your followers have. And those will be your ideas for future Social Media posts that you will create.

Yes, it's that easy to get content ideas.
What's next?
In this article, you got great ideas for creating interactive Social Media posts. But now you have to start writing the content. And that might make you feel overwhelmed.
Hey, writer's block is a real thing, and I had it for the longest time! But I was committed to finding a solution. So…
Are you ready to learn my secret steps to Social Media content creation? Then grab this FREE Ultimate Social Media Content Checklist now. It will show you:
what steps you'll have to take
and it will give you an extensive resource list that will help you save your precious time!
Get my Social Media Content Checklist and start making your posts with ease!