If you're a small business owner, you know just how crucial it is to build a strong presence online.
And the most vital part is to find unique Social Media content ideas that will attract your ideal audience.
So the smartest thing you can do is focus on creating posts that your customers and fans will love.
But what is actually holding you back?
I've talked with hundreds of small business owners by now, and the number 1 reason is always the time it takes to find great content ideas that you can share on Social Media.
That's why I want to provide you with 120 killer solutions that will direct attention to your posts and engage your audience with your brand.
And before you read the article, I would like to invite you to our Facebook community, that's perfect for boss babes who want to build a successful online business through Social Media.
This post includes affiliate links to products I love and recommend, meaning I may receive a small commission at no extra cost to you. I will use the earnings to maintain my blog and business so that I can deliver more value and knowledge to you.
Expert Social Media content ideas and tips
Before you jump on the list of 120 killer content ideas, here are some of the really important tips you should follow at all times.
Plan your Social Media content ideas ahead:
Winging it won't get you far. You have to plan your content ahead so that it helps you grow your business. Think about how to connect with your audience, what will help them solve their problems, and how you can reach out to more people.

You can also grab my Free Social Media Content Checklist, which will save you a lot of time and show you what to do step-by-step.

What will drive traffic to your content and products, and how can you make more sales? You need to think about everything, and yes, your content will help you achieve your goals.

If you are too busy, then it can get really hard to plan and also take action (*been there, done that*). But don't worry, there is a great game-changing solution for you.

I've created 7+ Years Of Social Media Content Ideas that include 3 content calendars!

Start using it today to avoid the social media overwhelm. It made my life a whole lot easier when I created it, and I'm sure it will do the same for you.

You'll never struggle to come up with new content ideas ever again!
However, if you want to learn how to create a whole year of content by yourself, then read my blog post: How To Easily Create Your Yearly Social Media Content Calendar
Talk to your audience and get to know them
You should always talk TO your audience. But the biggest mistake most entrepreneurs make is they talk AT their audience. There is a big difference, and I learned that from Kat Sullivan (Marketing Solved).

Talking to your audience means you create a conversation through your post. Here are examples that will help you create your posts the right way:
DON'T TALK AT YOUR AUDIENCE: "I found this blog post about XYZ, and I wanted to share it with you."
TALK TO YOUR AUDIENCE: "Have you ever had an obstacle with XYZ? If you did, don't worry because you're not alone. This morning I found this blog post that will help you with XYZ; that's why I'm sharing it with you."
Create relevant content for your audience
Creating relevant posts is one of the Keys to Success with Social Media Content Marketing.
It's not enough to simply publish content; you need to make sure that it's applicable and engaging for your audience.
Here are a couple of ways you can achieve that:
Identifying the Target Audience: You want to know who you're talking to, what they need, and what they want.
Storytelling and Emotional Resonance: All successful business owners use business storytelling that resonates emotionally with their audiences.
Using a Conversational Tone: Your content should be approachable and relatable to your audience. Avoid jargon, technical terms, or complex sentences that may confuse your followers.
Be creative and ask questions
The most engaging content you can share on Social Media is questions or polls. However, you shouldn't just ask something for the sake of engagement.

The purpose of this kind of content is to get to know your audience on a deeper level. See what they love, what their challenges are, and what they desire most.
Celebrate Social Media Holidays
There are numerous ways to promote your business on Social Media, but it's essential to know when to utilize each strategy.
It's no secret that celebrating different Social Media holidays can be a great way to boost your engagement. 
In fact, it's one of the easiest (and most fun) ways to bring people together. I encourage you to try it out.
Top places to find Social Media content ideas
You can find inspiration for your content everywhere. Reading through other people's articles, posts, or even comments can give you many ideas to talk about.
So to help you out, here are 18 Top Places To Find Amazing Social Media Content. 
Social Media content tools
Using Social Media for your business does not have to be a hassle, and there are actually a lot of tools that can make the entire process easier. 
These Social Media content tools are very beneficial for busy entrepreneurs who want to save time and create strong posts that attract their ideal customers.
---
120 Killer Social Media Content Ideas Your Audience Will Love
1.) Social Media content ideas for stories:
1.) Share your story (who you are and what your passion is)
2.) Talk about your struggles and how you overcome them (your failures and wins)
3.) Tell a funny story about something connected to your business
4.) Share behind-the-scenes photos or videos
5.) Make videos on business events
6.) Explain why you decided to buy a product or join a business
7.) Talk about your products and how they help people
8.) Share someone else's inspiring story
9.) Share testimonials from your customers
Do you know how to create CAPTIVATING content that ATTRACTS the right audience? Learn from these Content Marketing And Storytelling Strategies
2.) Share quotes:
10.) Share a funny quote about your niche
11.) Share an inspirational quote and tell your audience what you think about that specific quote or how it helped you through a situation
12.) Share a quote (graphics) – ask your audience what they think about it
13.) Share your favorite quote (graphics or text) and ask your audience to share their favorite quote
Want to get some quote ideas? Check out my blog posts:
3.) Ask questions:
14.) Ask your audience what their biggest struggle in business is
15.) Ask them what you should post next
16.) Ask which topic you should cover in a live video
17.) Ask questions related to your business or industry
18.) Ask for recommendations (books, courses, or something related to your business)
You might also love to check out these 333 Killer Social Media Questions To Skyrocket Your Engagement.
4.) Days of the week post ideas:
19.) Motivational Monday (motivate your audience) – #MotivationMonday
20.) Tip Tuesday (related to your niche) – #TipTuesday
21.) Create a Wisdom Wednesday post – #WisdomWednesday
22.) Throwback Thursday (photos of a trip or your previous results) – #ThrowbackThursday 
23.) Freebie Friday (give a Freebie) – #FreebieFriday
24.) Saturday Special (talk about something special) – #SaturdaySpecial
25.) Sunday Funday (share what you did that day) – #SundayFunday
5.) Business content for Social Media:
26.) Give away coupon codes
27.) Talk about a product that's on sale
28.) Sell your products or services
29.) Promote your new product
30.) Talk about the benefits of the product and how it helped you
31.) Promote a "One Day ONLY" Flash sale
6.) Social Media content ideas for videos:
32.) Host a webinar
33.) Make a live video (on profile, page, group, or stories)
34.) Host a Giveaway (on a live video)
35.) Create a video with a couple of tips (from your blog), then tell your audience they can find more tips on your blog post (share a link)
36.) Make an interview with a leader in your company
37.) Upload a short video showing behind the scenes & your lifestyle
38.) Host an "Ask Me Anything" live video
7.) How-To content ideas for Social Media:
39.) Share a step-by-step how-to tutorial (Example: how to set up your profile)
40.) Share a 'how-to' content to create something specific in your niche
41.) Make a 'How-to create and plan your goals' post
8.) Challenges:
42.) Challenge your audience to post every day for 30 days and give them a free Social Media Calendar
43.) Create a challenge about your niche (example: weight loss challenge)
44.) Challenge your audience to write down 3 goals, and they have to achieve at least one in a week
45.) If you don't have any ideas, ask your audience what challenges they want to do next.
9.) Social Media content ideas for mini-courses:
46.) Create a 5-day mini-course about a specific topic in your niche
47.) Make an email 7-day mini-course (send one email per day for 7 days)
48.) Create mini-course and put them on your blog/website
49.) Create a 7-day mini-course in your Facebook group
50.) Make a 5-day mini-course and share it on all (or just some) Social Media platforms
10.) Create giveaways and freebies:
51.) Giveaway products to your super-fans
52.) Create Freebie about a specific topic that your audience struggles with
53.) Host a BIG Giveaway (create rules: they have to like, comment and share your post or video)
54.) Giveaway a 15 min coaching call
55.) Make a Freebie e-Book and give it away in exchange for their email address
Here's an example of a giveaway that I hosted in the past:
11.) Mention your followers and fans:
56.) Welcome new followers and thank them for joining your group or page
57.) Shoutout to your top fan (or top 3 fans)
58.) Celebrate 1,000 followers and thank them
59.) Share a testimonial from a fan and thank them
60.) Give your followers a special gift
61.) Create a VIP list, and each week, choose 1 winner and send them the link to your VIP list where they will get at least 1 Freebie per week
---
Learn The Secrets To Creating Social Media Content Fast While Working Full-Time.
---
12.) Cross-promote your content:
62.) Share your Instagram post on your Facebook page
63.) Create a similar post and share it on all Social Media platforms (spread them out throughout the week)
64.) Use the same photo/graphics on other Social Media platforms
65.) Share a link to your Instagram on your Facebook page, ask people to follow you, and follow them back
66.) Share your Social Media content to your email list (some will engage on your posts)
13.) Social Media content ideas for polls:
67.) Create a Facebook Poll in your live video (ask a specific question)
68.) Create a Facebook Poll on your profile or page
69.) Create a Poll in your Facebook stories (group, page, profile)
70.) Create a Poll in Instagram stories
Here's another example of a simple poll I created in my Facebook group: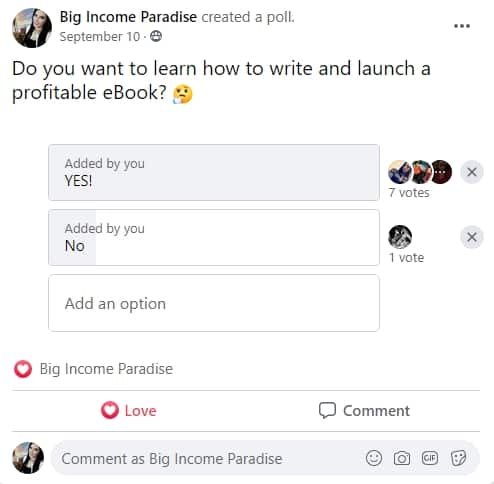 You might also love to check out: 100+ SOCIAL MEDIA POLL QUESTIONS TO INCREASE ENGAGEMENT
14.) Share your life tips:
71.) Talk about your morning routine
72.) Share your top 3 favorite personal development books
73.) Talk about leaders you look up to
74.) Share a quick time-saving tip
75.) Explain how you prepare for the day or week
76.) Share all the things you do daily
77.) Share your top favorite apps that help you get organized
15.) Share the top tools & resources:
78.) Talk about the tools that help you create content
79.) Share your favorite apps for creating great photos
80.) Share the best resources that helped you grow your business
81.) Talk about tools that help you save time
16.) Share content about yourself:
82.) Create an "Ask me anything" post and answer people's questions
83.) Share what's on your bucket list
84.) Share your vision board
85.) Talk about what you stand for, your morals
86.) Share which trip you are planning next
87.) Talk about your favorite destinations
88.) Share why you started working in the online business, what attracted you the most, what you don't like about it
89.) Talk about who your favorite motivational speaker is and why
90.) Create a "Letter to my younger self" (include a picture of you when you were a baby)
Below if an example of my post where I talk about who I was in the past (and yes, I was a raver):
17.) Social Media content ideas for products:
91.) Create a video on how you use your products
92.) Answer the most asked questions about your products
93.) Share a sneak peek of your upcoming product
18.) Blog posts:
94.) Share your new blog post on Social Media
95.) Re-share your older blog post
96.) Share someone else's blog post and explain what you learned
97.) Share a guest blog post that you made on someone else's blog
19.) Grow your email list:
98.) Tell people to sign up on your email list
99.) Create a special email list and promote it
100.) The easiest way to grow your email list is to create freebies and share that email list on your Social Media
20.) Other Social Media content ideas:
101.) Re-share your old content (photos, quotes, graphics…)
102.) Share some interesting news about your niche or business
103.) Talk about your favorite things to do (alone or with your family)
104.) Share 5 things about yourself that most people don't know
105.) Create fill-in-the-blank posts
106.) Create a post "Guess the right answer" (something about your or your business – create a poll or give them A, B, C options)
107.) Shoutout to your top customers or followers & thank them
108.) Talk about the events that you'll be hosting
---
You might also love to read: 25 Social Media Engagement Ideas To Boost Your Business
---
109.) Share your favorite podcasts
110.) Talk about marketing mistakes and how to fix them fast
111.) Ask your followers how they found you
112.) Share some statistics from your niche
113.) Create a case study
114.) Talk about your WHY
115.) Share fun facts about you
116.) Wish everyone a Happy Holiday
117.) Share an infographics
118.) Create a day in the life post
119.) Recommend someone else your audience should follow
120.) Post a photo and ask your followers to create a title for it
What content should you post on Social Media?
If you're looking for something to keep your audience engaged, you should mix up your content.

If you keep posting the same type repeatedly, people are going to get bored. You want to make sure that you're posting different content formats to keep your followers entertained.

Here are some types of Social Media content you can post:
Blog posts: You can share links or create a graphic with a part of your article in it. And, of course, don't forget to add a call to action.
Images: Create visuals in Canva or another tool and share them on Social Media. They help break up your text-based updates and make them more visually appealing.
Videos: You can create videos and upload them as posts or inside stories. This type of content will boost trust with your followers because they can see or hear you.
Polls: You can create polls that allow your followers to vote on their favorite choices. They are great because they get people interacting with your brand.
---
You might also be interested in this article: 40+ Business And Social Media Tools That Will Give You An Unfair Advantage
---
How can you make Social Media posts interesting?
So you've decided to be more active on Social Media to promote your business. Great! But what do you post?

Creating exciting content can be tricky, especially if you want it to engage. So here are some tips for writing more vital Social Media posts:
Be different: You can make your posts more engaging by starting with a great title that hooks people in. Then, instead of just cutting and pasting a link (which is boring), use the first comment to provide context about the article. That way, people get a taste of what's in store when they click through and read the rest of it.
Be helpful: One way to make your posts more appealing is to think about what your followers want or need from you, not just what you want them to know about your business or company.
Use a strong headline: This is the first thing people will see when they come across your post, so it needs to be something that makes them want to read on.
Use a call to action or question: Don't forget to ask your audience questions, and end your post with a call to action.
Conclusion:
If you ever heard someone say: "Content is KING!" – they were right. That's where your audience will get the value and decide if it's good enough or not.

Many entrepreneurs are losing followers because their Social Media content ideas are boring or they just don't post enough. But that won't happen to you because now you have a ton of ideas.

Start planning your content ahead, or grab my 7+ Years Of Social Media Content Ideas that will help you save time, lower your stress, and increase your engagement, followers, and sales.

If you loved my blog post and you find it helpful, share it on Social Media and help others that are struggling with content ideas.