For years I have been trying to wing it with random Social Media content, and it didn't work. My business didn't grow at all. Has this been happening to you?

The problem with not having a Social Media content plan is that you are all over the place. Or even worse, you don't post at all because you don't know what to post.

But don't worry, we are going to cover everything you need to know about planning your Social Media content and having massive success from it!

Before we start, I would like to invite you to our FREE COACHING GROUP for all entrepreneurs who want to learn more about Social Media Marketing, Email Marketing, Pinterest Marketing, and growing your business fast.
---
This post includes affiliate links to products I really love and recommend, which means I may receive a small commission, at no extra cost to you. I will use the earnings to maintain my blog and business.
---
1.) Why it's important to plan your content ahead:
It's important to plan your Social Media content ahead because you will know what to post, and you are more likely to stay consistent. And by now you probably already know that consistency is key to success.

But you also have to post strategically. That way you will have more chances to grow your business and create your own big income paradise 😉 Now let's look at the most important components of planning your Social Media content.
2.) How to plan Social Media content:
You should really take content planning seriously. Not only will it help you stay consistent and grow your business, but you will also be less stressed.

So let's cover some of the top tips for planning your content…
---
---
A) What products do you want to promote:
Firstly you should know what products do you want to promote that specific week and month. This will help you create your content. I will give you an example so that you will see how simple planning your content really is:
If you're selling a Social Media Marketing course, then you know your content should be mostly about Social Media marketing.
On Monday you can talk about how to get Social Media engagement up
Tuesday – you can talk about how a specific strategy changed your life & business
Wednesday – you sell that strategy (Social Media marketing course)
It's easier to plan your content ahead if you know what you want to sell that week or month. Just create content with the same topic. Also, don't forget to share your story and ask questions. Your audience needs to get to know you and see that you care about them too.
B) What are your monthly and weekly goals:
Maybe you are wondering how writing down your goals will help you with planning your content. It's actually really simple – when you know what you want to achieve it's going to be easier to create content that will help you reach your goals.

All of your posts on Social Media need to be created strategically with your end goal in mind. For example, if you want to get more email subscribers you need to share your new Freebie with your audience. If you want to sell your Social Media Marketing course, you have to talk about Social Media topics.
C) Write down all the holidays:
Many entrepreneurs don't put much attention to the holidays. But you should be different. When most entrepreneurs ignore a specific holiday, you can use it to your advantage…

Put a special discount on your product and promote it or maybe give something away for free to celebrate that day.

Firstly you need to know where most of your audience is from, then check the holidays from their country. Secondly, you should be different and here is how you can do that…

Besides the original holidays, there are also some funny and bizarre holidays most people don't actually celebrate. But you should make your audience laugh.

I created A Complete List Of Social Media Holidays that will help and save you time.
D) Follow the 80-20 rule:
If you don't know what the 80-20 rule is, I'll quickly explain. You need to post 80% of the value, lifestyle, funny posts, and only 20% of business (sales) posts.
EXAMPLE: So let's say you share 1 post per day – every day. That's 7 posts per week and from those 7, you can actually have 1-2 business posts. Makes sense, right?
I also want to give you another extra tip – don't hardcore sell. It's easier if you tell your story, how you struggled before you used the product and how your life changed after you started using it.

Talk about the benefits and the right people will come to you. I actually wrote a blog post about how to create a fail-proof Attraction marketing formula that will help you sell more of your products without struggling. You can read more about it HERE.
E) Plan at least 1 post per day:
You need to be present on Social Media EVERY DAY! No more excuses like "Oh but it's Weekend…" – it comes down to how bad do you want to succeed. Your audience needs to see you daily because no one wants to work with inconsistent people.

The more they see your value, the more they will see you as an expert and a go-to person. And that is probably what you want to achieve because an expert is always paid more 🙂
So plan at least 1 post per day, and follow the plan!
But if you're a busy boss babe and you can't find the time to plan ahead, then there is another game-changing solution for you.

Social Media Content Calendar that is planned for a WHOLE YEAR ahead! How cool is that? You won't need to plan for hours and hours anymore. All you have to do is grab the content calendar here and start using it right away.
This calendar saved me a ton of time and I'm sure it's going to do the same for you. And also, it's planned out strategically so you will see an increase in engagement and income. *SCORE!* 🙂
3.) How to organize your content:
Organizing your content is important. It will be easier for you to know what to post on which day and when to promote your products. You can write everything in a notebook or a calendar or you can use online tools. But let's cover all the different ideas shall we 🙂
A) Social Media content calendar:
I created a FREE Social Media calendar for you. Inside you will get 1 month of content already planned out for you and extra 30 title ideas. Besides that, you will also get a blank Social Media calendar where you will be able to plan your own content.

CLICK HERE and get your hands on it right away 🙂 It's free!
B) Online Social Media content calendar:
I always loved planning in my notebook, but now I started using the online organizer called TRELLO. I still use my notebook but Trello made it easier for me because I can use it on my laptop and phone (YEAH! No more dragging my notebook everywhere!) 😉

Another really great thing about Trello is that you can use it for FREE! They also have a paid plan, but you probably won't need it.

Watch my video below to see how you can use the Social Media content calendar that I created for you:
CLICK HERE to get my Free Social Media content calendar on Trello. Just create a free account and follow the steps from the video above.
C) Tools to help you schedule your Social Media content:
FACEBOOK SCHEDULER:
You can schedule your content directly on your Facebook page and group. It's a free tool that Facebook added some time ago. There is one difference between the page & group scheduler:
Facebook Page: you can schedule for 6 months ahead
Facebook Group: you can schedule for only 2 months ahead
ALL IN ONE TASSI SCHEDULER:
TASSI – I recommend it especially for super busy entrepreneurs. It is easy to use and it comes with tons of ready-to-use posts and customizable graphics.

Here are some of the benefits you will get from using TASSI:
Cuts Social Media Management Time Down…Allowing You To Hangout At Coffee shops More.
Produces Content For You, So You Can Focus On More Important Things… Like Meme Pages
Replaces The Need Of Hiring Extra Employees Or An Agency – Robots May Take Over Anyway, So You Might As Well Get A Head Start
ALL IN ONE – It's Your Calendar, Content Creator, Image Editing Software And Foot Massager In One (It's Not Really A Foot Massager But We're Working On It)
Schedule An Entire Month Worth Of Posts In Less Than An Hour… If Your Jaw Didn't Just Drop You Need To Read That Again
---
4.) How to create great content for Social Media:
Have you ever been struggling to come up with new content ideas? I know I have, but it's actually not that hard. We live in a great time because we have one amazing thing called – THE INTERNET 😉

There are a ton of ideas, you just have to know where to look. That's why I create this blog post – Social Media Research Topic Ideas. Read it and see where you can find the ideas for your Social Media posts.

Here is what you also need to know if you want to create Social Media content that will convert into sales:
---
---
A) Know your targeted audience:
It's going to be much easier to create amazing content if you will know exactly who your targeted audience is. So do you know who they are? If not, don't worry because you can quickly fix that 🙂

CLICK HERE and get the TOP questions you need to ask yourself to figure out who your targeted audience is.
B) Write all your ideas down:
If you are old-fashioned like me, then you are probably writing everything down in notebooks. And you can do the same for your ideas.

Have a notebook close to you at all times especially when you are on Social Media because you will see many posts that will give you ideas for your content.
C) Spy on your competitors:
Don't copy & paste your competitor's posts. It is not nice to steal hard work from others and claim it as yours. However, you can share it or give them credit.

But you can also get many content ideas if you see what they are posting. Create a similar post but give more value to it. Always try to give more and your audience will love you forever 🙂
D) Check what content is popular in your niche:
Have you heard of the online tool BuzzSumo? Well if you didn't, with this tool you can find the most popular topics in your niche. Do your research, write the topics down and then create your own content.

Here's an idea that you can use – when you're creating your content, make it in different formats (video, blog post, pdf, e-book, post on Social Media…). This way you can use one piece of content in multiple ways which means you can share it on multiple platforms.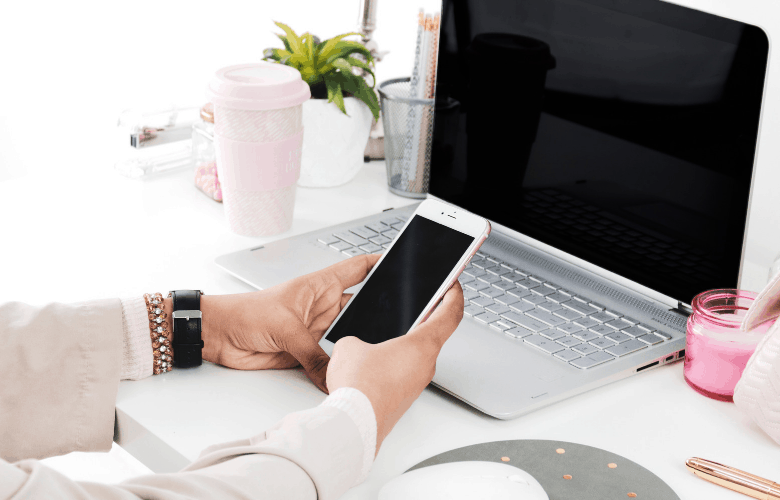 E) Ask your audience:
If you are not sure what should your content cover next, then ask your audience. It's best if you create something they are really interested in. Not only will they love you more for helping them out, but you will also get more eyeballs on your creation.

Besides that, you will start attracting a more targeted audience to you. When they tell you what topic you should cover, make sure you put a lot of value into it.

They deserve to get the best of the best. It's true that it will take you a bit longer to create that content, but it will pay off.
F) Re-use your old content:
Here is where most entrepreneurs get it wrong. They create a piece of content, share it once and never again. If you put a lot of work into it, why not show it more often?

Great content full of value should be shared multiple times because it will help your audience. I'm not saying you should share it 3 times per week but you can share it up to 6 times per year.

Maybe change some parts of it, but you don't need to create it from scratch. This way you will save a lot of time and still grow your business.
G) Check your analytics:
Always check your analytics to see which posts are performing best. You will see which topics have almost no engagement and views, and which are performing the best.

Then you can create content with similar topics. You will stop wasting time on content that will never perform well.
H) Free Social Media content ideas:
I wrote a blog post (*MOST POPULAR ON MY BLOG*) about 120 Killer Social Media content ideas that your audience will love. Check it out and bookmark it so you will have easy and fast access to it.

I also have a Freebie with 100 Social Media engagement post ideas that you can get by CLICKING HERE. You will never run out of Social Media content again 🙂
Before you go, grab over 4,200+ pieces of Social Media content to help you boost engagement & make money online [Only $17]!

(PLUS YEARLY SOCIAL MEDIA CONTENT CALENDAR)